Your guide to the best theatrical performances across the city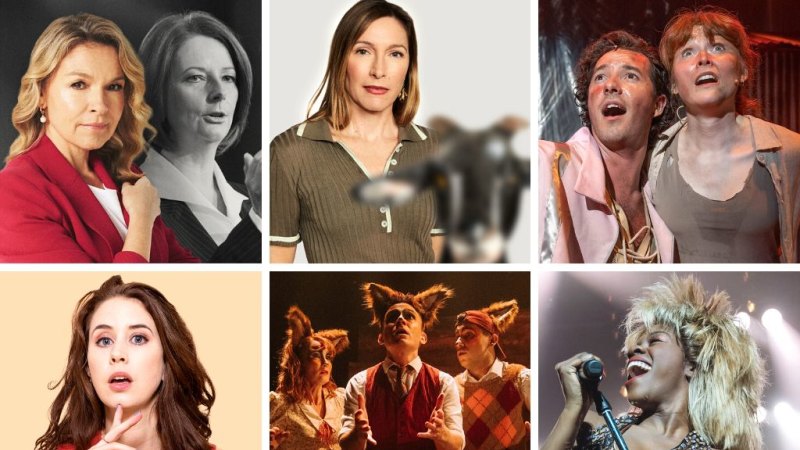 Venus and Adonis
When the pandemic prevented Damien Ryan, artistic director of Sport for Jove, from directing his play Venus and Adonis, he conjured up a compelling feature film version instead. Now comes the piece itself, weaving the epic, erotic poem together Venus and Adonis with the dingy, tragic, humorous, lustful, hard-lived life shared by Shakespeare and his circle, and bolstered by the lushness of several sonnets. Ryan's Shakespeare (Anthony Gooley) has the intensity to be credible as the author of supreme art, while Emelia Lanyer (Adele Querol), the Bard's mistress, was the first professional English poet. Oscillating between London rehearsals, a family tragedy in Stratford and the dominating presence of Queen Bess (Belinda Giblin), this is a must-see. Seymour Centre, September 29th to October 21st.
Markus Humphries
urine city

Don't let the name throw you off. It's seriously funny and not as gross as you'd think. I saw a production of this 15 years ago that I think starred David Campbell, Rhonda Burchmore and Shane Bourne and I was really surprised at how smart she was. The title suggests it will be crass humor, but it's a satire on capitalism. Once you get on board with the premise – it's a city where water shortages caused by a decades-long drought make you pay to go to the bathroom, all controlled by a megacorp – it's very funny and the songs are really smart. Hayes Theatre, through February 5th.
Gentlemen prefer blondes
You can't go wrong with director Richard Carroll, that's the be-all and end-all here for me. I would say that his Disaster Jane is the best live entertainment I have ever seen. When Carroll puts his spin on a classic entertainment piece, he brings new eyes to it, and the results can actually be quite surprising. The show's leads, Emily Havea and Georgina Hopson, are huge talents. They become well-known names – and already belong to the musical fans. I do not know Gentlemen prefer blondes very good and haven't seen the 1953 film but I trust Carroll and think audiences should too. Hayes Theatre, from February 16.
In the forest
Like many people, I am still mourning the death of composer Stephen Sondheim in November 2021. The opportunity to see Sondheim's work is always a privilege and I can't remember when the last Sydney production of In the forest was. Tamsin Carroll returns from the UK for this production. She's one of our big talents and the West End has had her for too long! In the forest is one of Sondheim's most accessible works; a show for everyone and perfect for people who might find it too complex or inaccessible. The songs are really funny but also have some incredibly deep and moving things to say about life and children. It's a wonderful reworking of fairy tales, years before Shrek came with. Belvoir, March 18th to April 23rd.
The termination
This is my must see show of the year. I saw a very advanced workshop at the Seymour Center in 2019, which was in very good condition even then. I think it could be the next big Australian musical and creators Blake Erickson and Jay James-Moody have been sitting on this gold mine for years as we grapple with the pandemic. The songs are by Laura Murphy, who just brought us the incredible The loving ones at Bell Shakespeare, and they're banging, memorable, and funny. The show takes place after the sacking of Gough Whitlam as Prime Minister and follows Norman Gunston, the story's arranger and screenwriter, as he recounts what happened. It's such a clever idea and I can't wait to see it again. Seymour Centre, from August 26th.
Louise Rugendyke
one woman show
Australian Liz Kingsman has been hailed as 'Britain's new queen of comedy' for her one-woman show that parodies the 'troubled woman' storytelling genre – think Bridget Jones, Phoebe Waller-Bridges fleasack and all the shows that followed. The meta-comedy has been lavished with five-star reviews since making the leap from the festival show to the West End in 2020, with critics praising its "delightfully daft" and "gorgeously inventive" storytelling. Kingsman himself has described it as extended Saturday night live sketch. She's now bringing it to Australia for the international premiere and I can't wait. New voices in comedy are exciting, especially when they dare to dream beyond simple stand-up. Playhouse, Sydney Opera House, 1st-19th February.
Loading
Fantastic Mr Fox
Any parent will tell you that sitting through theater aimed at children is a godsend. You'll often shell out $50 just to get your kid more interested in what's under their seat than what's on stage. But that's not the case with Brisbane's Shake & Stir Theater Co. They are masters at entertaining younger audiences and giving familiar stories a unique twist. My six year old still appreciates their wildly inventive production The tweets as the best show she saw last year (it was in my top 5 too) and we've already booked to see her version of Roald Dahl's bushy-tailed classic. Roslyn Packer Theater 19-30 April.
Sam Campbell
So this isn't exactly theater, but like Liz Kingsman, comedian Sam Campbell deserves attention because he thinks beyond stand-up. Campbell not only delivers jokes about what he did yesterday, but piles on the ridiculousness until the audience squirms, unsure of what comes next. Last time I saw him he had ping pong balls on sticks attached to his head. Campbell won Best Comedy Show at the Edinburgh Fringe Festival last year and there's a good chance he'll be sweeping the Australian comedy scene this year. Factory Theater, 25.-27. April.
At the beach
Yes, this is based on Nevil Shute's classic 1957 novel, which envisions Australia after a post-apocalyptic fallout – tick! – but for me the real interest lies in the fact that it is adapted by master storyteller Tommy Murphy. It took me hours to recover from the filming of holding the manfor which he wrote the screenplay. Packer & Sonshis attitude towards the Australian media moguls, Belvoir full in 2019. Murphy is also in the middle of a gold tv series with Foxtel's The Twelve and ABC's Significant Others. The cast hasn't been announced yet, but my bet is Murphy with director Kip Williams at the helm. Roslyn Packer Theatre, July 18-August 12.
A cultural guide to going out and making love in the city. Sign up for our Culture Fix newsletter here.
https://www.smh.com.au/culture/theatre/hottest-tickets-in-town-your-guide-to-the-14-shows-to-see-in-sydney-in-2023-20230119-p5cdp3.html?ref=rss&utm_medium=rss&utm_source=rss_culture Your guide to the best theatrical performances across the city