Yes, house for sale with its own pub and man cave bar for $660,000 to $695,000
The prospective buyer of a Victorian home doesn't have to travel far at all to get beer on tap.
The two-bedroom, one-bathroom property at 4 Duke Street in Yea is being offered with a guide price of $660,000-$695,000 and has its own private pub at the back.
The renovated 1880's cottage, listed by Noble Knight Real Estate, offers a 'Full Man Cave Bar' in the backyard with 'brews on tap'.
Referred to as "Craftsman's Paradise" in the listing, the man cave is a spacious workman's shed with its own bar area at the back.
There is also a dart board next to the Australian flag and a giant TV screen to catch the latest sports games.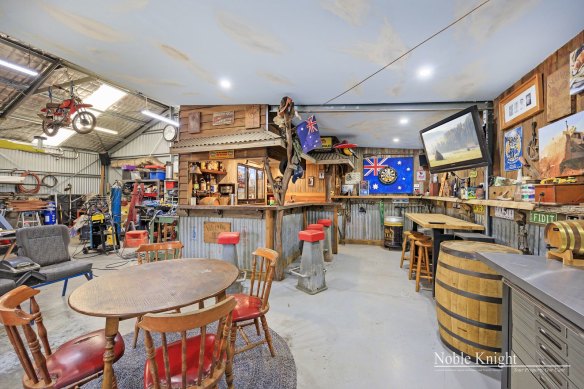 Barrels and bar stools can be seen throughout the space, along with quirky license plates and Aussie paraphernalia lining the walls.
The interiors of the man cave contrast starkly with the cottage's aesthetic with its polished floorboards, wood paneled walls, original fireplaces, plush carpets and curtains.
https://www.smh.com.au/property/news/the-beer-necessities-sub-700-000-cottage-with-a-hidden-bar-20230315-p5csdj.html?ref=rss&utm_medium=rss&utm_source=rss_property Yes, house for sale with its own pub and man cave bar for $660,000 to $695,000