"Yes, a shark took part of my leg. But it gave me so much more'
"This is nobody who survives this type of accident."
Connellan did.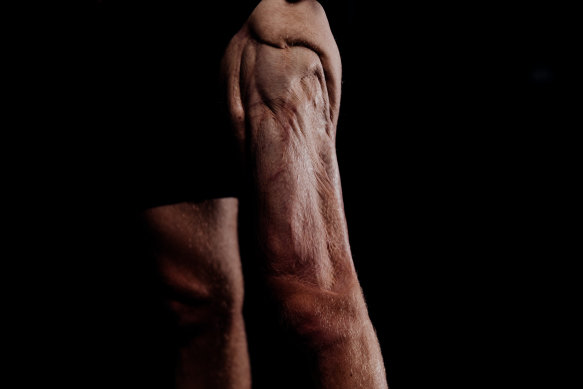 "And then I'm in intensive care," he says. "This guy walks in, I've never met him before, he introduces himself as Dave and starts reeling off a story about a shark attack.
"I shit there and I'm like, 'This guy doesn't know what I just went through?' I was speechless. He comes to the end and asks, "Do you know why I told you that?"
"'Because you went through something that people find interesting, it's a shark attack. I have had this experience and you will need to talk about it.'
"'You have to be comfortable with that because it's going to help you too.'"
The advice of Dave Pearson – founder of the support group for victims of shark attacks, Bite Club – applies. A guest speaking role at RU OK Day at a local high school four months later got the students excited and Connellan on board.
"I no longer told my story because I had to, but because I wanted to," he says.
"I can share the important parts of the story, which is basically everything after the attack, to be honest."
The Molokai Channel: Where Big Things Happen
The idea of ​​paddling 54 kilometers across one of the most treacherous bodies of water in the world was born in 2018.
In another world, Connellan would have traveled to Hawaii as a competitor on surfing's world tour. Within five months of being attacked at Bombo, Connellan was back on a board.
Surgeons, fearing he would never walk again, took a large section of the lat muscle in his back and attached it to his left quadriceps while physical therapist Scott Muttdon helped him rebuild it.
"We still have 80 percent of him to work with," Muttdon says as a whiteboard is brought out and the two goals and recovery goals are written down.
Finally, the crossing of the Molokai Channel in Hawaii is certain.
The same stretch of water where legendary waterman Eddie Aikau was lost is where 3000 km of open ocean swells and currents converge between the islands of Molokai and Oahu. Big things also push below the surface, the seabed more than 700 meters below.
The annual Molokai to Oahu Paddle Race is one of the world's toughest ocean endurance events. Connellan takes over, missing half a leg and arguably the most important muscle in the body for paddling.
"I had improved my surfing to a point where I was at a level that I was really happy with," says Connellan, after carving peaks overhead and putting them in barrels in Fiji and Indonesia.
"But I thought, 'Did I really go through this whole experience just to become the person I was before?'
"Crossing such a deep channel, with some really big fish in there, a lot of things to be scared of, the mental challenge that comes with it really appealed to me."
COVID-19 delays mean Connellan is abandoning the race and instead making the arduous journey alone, with only two-time race champion Brad Gaul and a support boat to guide him.
After three hours, his body goes into shock. Thirty minutes later, an unwise tuna sandwich is "the worst thing I've ever tried to eat in my life."
For seven hours, Connellan alternately stares at an ocean that's "so deep blue it's purple" and Oahu's volcanic peaks.
"I'm like, 'Can I do this?' And I can put myself back into walking or surfing, going through my recovery, and I kept telling myself; "That's all you can control".
"I landed in the sand and just rolled off my board… It wasn't just the seven hours [paddling]. It was the four or five years before that. It was all over in that moment, I've never done anything with that feeling of accomplishment."
Tell the story and move on to the next
Connellan has never felt comfortable being called inspirational or brave simply (his words) for surviving a shark attack.
"To tell my story, of course attack is the catalyst," he says. "But to be able to recover, not let that define me, but mold me into a better person, that's what we want to share."
A keynote speaker and motivational speaker, Connellan, now 29, is already planning his next endurance challenges, a 50km trail run and then a Red Bull "Defiance" event – ​​150km of running, mountain biking and kayaking across North Queensland.
Almost seven years ago, in the helicopter that flew Connellan off the beach, there wasn't enough room for his mother, Gail, to join him. She sat back that night and wondered if her son would survive.
Loading
"He's matured so much from that night and a young man who didn't know himself that well to where he is now," she says.
"He sets goals, he's motivated, I'm so proud of everything he does in his life. It is a pleasure to watch him in everything he does."
The documentation attack on life streaming now, only on Stan.
https://www.smh.com.au/sport/yeah-a-shark-took-part-of-my-leg-but-it-gave-me-so-much-more-20230307-p5cpwr.html?ref=rss&utm_medium=rss&utm_source=rss_sport "Yes, a shark took part of my leg. But it gave me so much more'