Woollahra Council has 'delivered' 23 affordable homes in 14 years, none of which are occupied
Urban planning researchers Laurence Troy and Ryan van den Nouwelant, who published papers on State Environmental Planning Policy (SEPP) a few years ago, were not surprised by the numbers.
"I don't think it was effective at all," Troy said. "As far as it goes, after a decade in operation…still don't talk very much [homes]."
Van den Nouwelant said the very well-targeted policy has sought to give a "boost" to community housing providers and has been more effective in parts of Sydney where land is cheaper and the economy is in good shape.
For example, Hills Shire Council confirmed on Tuesday that it had approved 388 homes under the SEPP for affordable housing since February 2013.
The new Labor government will soon be stepping up these incentives by giving developers a 30 per cent height and area bonus if they add 15 per cent of affordable housing. However, that's more geared towards large private developers with projects worth more than $75 million.
"As far as I can tell, it's the same with steroids," Troy said. "It hasn't worked yet, and I don't see why it should work, aside from granting massive density premiums for questionable purposes."
Woollahra Council said it was evident that government planning mechanisms had not been successful in providing affordable housing in Woollahra Borough or in the whole of Sydney's eastern region and would advocate changes to bring more affordable housing into the region bring.
Councilor Harriet Price, who obtained the data by asking staff, said affordable housing in the area was "just a hoax" and she was disappointed by the long delays.
"It's okay to have all these announcements about all the things they want to do, [but] "We still see that nothing has been delivered," she said. "People are suffering because they can't find affordable housing in our community."
The government also announced on Tuesday that its new rents commissioner, former Homelessness NSW director Trina Jones, will be tasked with advocating for renters in the state with the country's most expensive housing market.
Jones has previously called for changes to rental laws that would require rents to be fixed at the advertised rate, and also for a massive investment by the State and the Commonwealth to build 5,000 public housing units a year.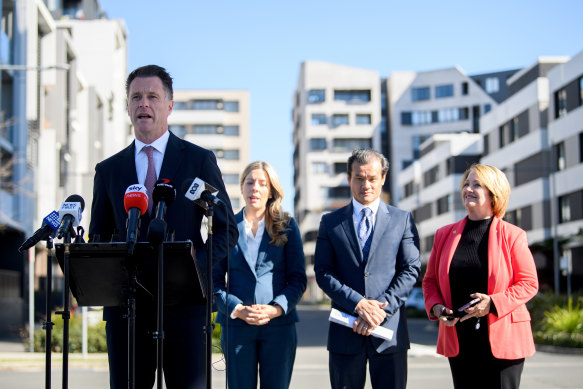 While Jones said she will focus on policies the government is committed to – such as ending evictions without cause – she would remain committed to social and affordable housing investments.
"The evidence and policy clearly shows that investing in housing that people can afford can have knock-on effects to ensure rents become more affordable," she said.
Loading
Prime Minister Chris Minns said Jones' appointment would make NSW a fairer place but the government will not automatically follow all her advice.
"We are the Executive Government and have been elected to make decisions on behalf of the people of NSW," he said. "Ultimately, even if you don't follow all the advice that you've given the government, it improves the way government makes policy."
The Morning Edition newsletter is our guide to the day's most important and interesting stories, analysis and insights. Login here.