Woodside's toxic oil tower is slowly sinking near Ningaloo Reef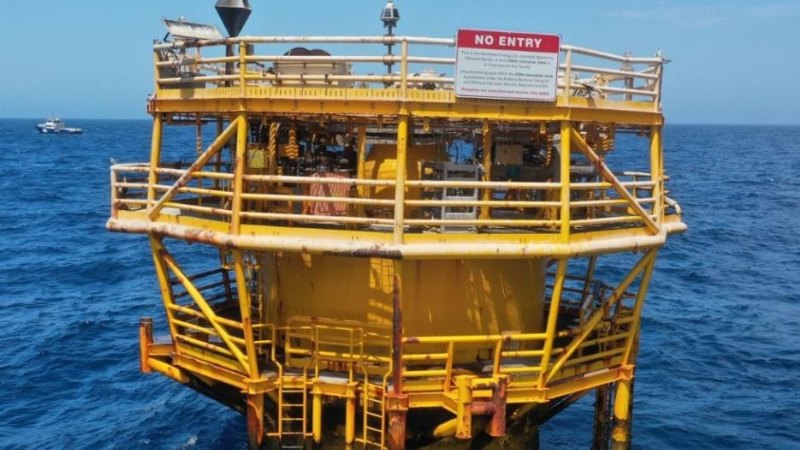 But the Federal Environment Department concluded that the plan "poses a significant risk to marine ecosystems" and "risks to human health cannot be ruled out," according to documents obtained via a freedom of information request from the Australian Conservation Foundation.
The problem was 65 cubic meters of polyurethane foam in the tower, believed to contain up to 120 kilograms of fire-retardant chemicals called PBDE, which have been linked to IQ loss. The department concluded they could affect people who ate fish caught on the proposed artificial reef.
Woodside has now dumped the tower back in the Henderson industrial estate south of Perth, but it will now be hoisted onto a barge rather than towed through the water.
A Woodside spokeswoman said they would be taking action to increase the tower's buoyancy in the coming weeks, planning to remove the tower in late 2023 and early 2024 and until then, following the regulator's guidance to minimize risks to the environment and shipping .
If the tower sinks further, there is a risk that it will end up on the seabed before the planned removal. A Woodside spokeswoman said that if that were the case, the company would be obligated to retrieve the tower.
Loading
Greenpeace campaigner Richard George said Woodside made billions exporting Australian gas but left a trail of accidents, near misses and shoddy clean-ups.
"If Woodside thinks it's too expensive or too difficult to clean up the mess it's wreaked on the oceans of Western Australia, then you can't count on it not wreaking even bigger havoc when you're at Scarborough and Browse drilling for new gas."
Australia's offshore oil and gas industry faces a $55 billion bill by 2050 to remove its equipment from the ocean.
The Enfield oil field on which the tower sits is operated by Woodside and 40 percent owned by Mitsui, which also operates the onshore Waitsia gas field north of Perth.
Summer Sale! Subscribe to WAtoday at $1 per week for the first six months, uninterrupted access to news, culture and sport from our Perth team, as well as sister publications The Age and Sydney Morning Herald, and exclusive emails from our newsroom. Change or cancel at any time. Hurry! Sale ends February 12th.
https://www.smh.com.au/business/companies/woodside-s-toxic-risk-oil-tower-slowly-sinking-near-ningaloo-reef-20230112-p5cc49.html?ref=rss&utm_medium=rss&utm_source=rss_business Woodside's toxic oil tower is slowly sinking near Ningaloo Reef