With the Origin title secured, Cameron Smith sets his sights on the British Open
St Andrews: When Cameron Smith agreed to appear for a press conference on the eve of the actual tournament, it was unlikely that his planning had taken into account the fact that State of Origin III would open at 1 p.m., the time it was due to appear at the media center. When he left the nearby clubhouse and lost his Wi-Fi signal, Queensland would lead 16-12 in the decider and it didn't last long.
To Smith's credit, he was punctual, checked his phone for reception as he sat down, and began talking about his morning work on the back nine in the company of Marc Leishman and Adam Scott with Ash Barty in tow, and admitted that this is his best shot at winning an Open title yet. When he received the requested score flash of 20:12 one minute before the end, the answer was "super".
Thoughts of home are never far away for Smith and weather conditions on the Fife coast this summer with a brown and firm golf course notwithstanding yesterday's heavy afternoon rain shower offer more hope than usual to a contingent interested in stopping The series of explosions dates back to 1993 when Greg Norman lifted the Claret Jug at Royal St George's.
"I would say this golf course probably reminds us a bit of home. It's really tight and very fast, which I think the Aussies really enjoy," said Smith. "I think we're going to have a hard time keeping the ball on the fairway considering how tight, fast and windy it was, but Leish and Scotty hit it pretty well today too. So it should be a good week."
Smith's profile has risen a notch since winning the Players Championship at Sawgrass in March, the unofficial fifth Major, so much so that the world No. 6 from Brisbane is stepping into dreaded territory, the "best player ever a Major has won".
He started the swing at Augusta in April with an overall 7-1 with bookies looking to land a big one this season and that has yet to pay off. A tie for third place at the Masters was followed by a tied 13th place at the US PGA and a missed cut at the US Open, but the 28-year-old didn't shy away from questioning if this year was his best shot at an Open title is , the fourth and final major of the season.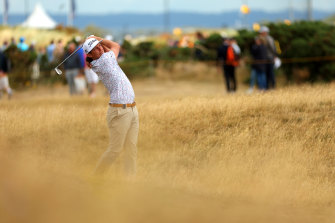 "I think so," said Smith, who is playing his fifth Open and broke last year with a 74 in the last round when he had a chance to challenge from the outside. "I think I played the best golf of my life for sure this year. i love the course I think it's everyone's dream to win an Open at St Andrews. I don't want to jinx myself, but I'm feeling pretty good.
"The game feels good. I had a good weekend at the Scottish Open [tied 10th at two under]. It was good to see some putts falling and some low numbers over the weekend. So yeah, hopefully I can make it.
https://www.smh.com.au/sport/golf/with-origin-title-secured-cameron-smith-targets-british-open-20220714-p5b1gw.html?ref=rss&utm_medium=rss&utm_source=rss_sport With the Origin title secured, Cameron Smith sets his sights on the British Open