With no copyright and no leash, this slasher is just the beginning
"No one has been able to do this before, it's the first time it's been available and I thought, 'Here's a big opportunity,'" he says. "When you tell people there's a Winnie the Pooh horror movie, everyone has the same reaction – 'What the hell?' Nursery rhyme characters don't really have the same impact."
He won't reveal the exact budget, but says it was less than $250,000. It's already open in Mexico – "it was in between avatar And M3ghan into the box office hits," he says happily – and has already more than made up for his costs. The sequel, he says, will be "at least five times the budget."
This will allow him to push further into comedic territory, which he loves and feels is lacking as the genre has swung towards 'sublime' horror.
"We want exploding heads. Pooh will come from 100 Acre Wood. I make a long list of places to visit. I think a rave could be so fun with lasers going everywhere and he just walks in and starts killing everyone and it's a big bloodbath. So, yes, we have a lot of crazy ideas flowing."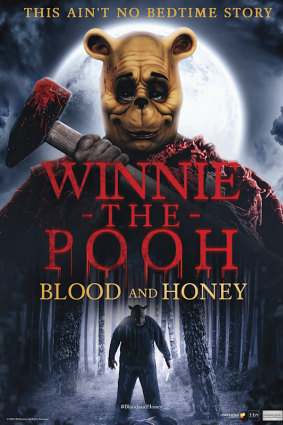 If this all sounds too much like a desecration of a beloved childhood icon, brace yourself. Frake-Waterfield has ambitions well beyond Pooh.
"We want to create a small universe of these crazy concepts," he says. "Next, let's look at Bambi. Make him really big, biting people and stomping on their heads. That also excited many. We obviously have the sequel to blood and honeyand I have one from Peter Pan too."
One character he won't be tackling is Mickey Mouse, whose first iteration in Steamship Willie, scheduled to enter the public domain next year. "You have to be very careful with that because it's so closely tied to Disney, and when you're making a movie like this, you have to insure it."
That was "really difficult" for Pooh, costing five times what it would normally cost for a project of this magnitude amid concerns over a possible copyright dispute. Doing it for Mickey, he readily admits, would probably be impossible.
However, he has an idea for a horror shoot on the Teenage Mutant Ninja Turtles"where Shredder actually shreds people, or they cut people open and serve them on their pizzas".
But, he adds, pausing, "right now we're riding this pooh wave." To the bank.
Winnie the Pooh: Blood and Honey is in theaters February 16-19. For locations see Umbrellaent.com.au
You can find more of the author's work here. Email him at kquinn@theage.com.au or follow him on Facebook at karlquinnjournalist and on Twitter @karlkwin.
Find out the next TV, streaming series and movies to add to your must-sees. Get The Watchlist delivered to you every Thursday.
https://www.smh.com.au/culture/movies/not-so-sweet-how-honey-loving-winnie-the-pooh-became-a-slasher-film-villain-20230215-p5ckob.html?ref=rss&utm_medium=rss&utm_source=rss_culture With no copyright and no leash, this slasher is just the beginning