Why We Are Still Slaves To The Fountain Of Youth
Once, on a joyful evening at a dinner table with three good friends and as many bottles of wine, my face twisted into breathless laughter at a somber joke. This moment, the feeling tells us, is pure happiness. Only something really powerful could pull me out of it. But as I dabbed my eyes on the back of my hand, I saw my reflection in my friend's mirrored kitchen splashback and saw my cheeks and eyes wrinkled in new and unflattering ways, and panic gave way to joy. Instantly, the joke was forgotten and my phone was in my hand, and a week later I'd lost $700 in pharmaceutical-grade skincare to make me look like a toddler again.
My mother used to use aging as a threat. "Stop scowling," she would say. "You're going to need Botox." Every time I sit back and wait for my dermatologist to fill her syringe, I remind myself and fight the urge to frown again. Just a few sessions in the forehead and between the eyebrows, just to work out my problem areas, only a few times a year.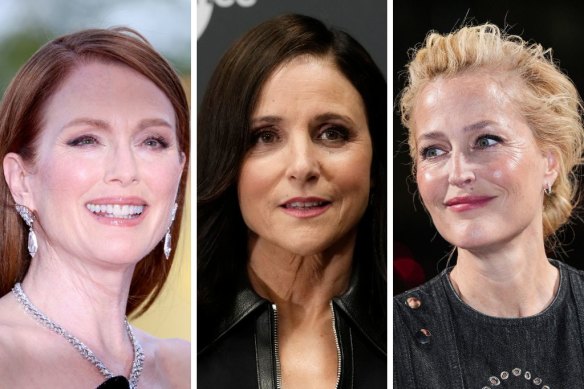 When I switch off in front of a screen, the anomaly of a middle-aged woman occasionally fills the picture. Not long ago, actresses went invisible at midnight on their 35th birthdays, only occasionally being asked to play a seedy, genderless character to perfectly offset the twenty-something upgrade named Adam Sandler's second wife. As we move away from the gleefully cruel snark culture of the early years, Hollywood has mercifully granted older women another moment in the spotlight.
"Gillian Anderson is quiet gorgeous."
"I think it's great that Julia Louis-Dreyfus isn't ashamed of aging."
"I think Julianne Moore will just be hot forever."
Notice the smug surprise every time we feel anything other than disgust at the sight of a woman in her 50s. We talk about how brave they are in embracing their changing looks; How brave They're even said to be leaving the house now, as they can no longer convincingly play a teenager on screen.
I'd like to think this is better than the alternative: candid photos of a ship launching, gorgeous actress minding her own business, taken with a paparazzi's ultra-zoom lens, released with a blinding yellow headline written on the cover a supermarket tabloid to explain that she's letting herself go. At least we don't pretend that crow's feet deface the most beautiful women in the world anymore, do we?
https://www.smh.com.au/culture/celebrity/bravo-to-those-brave-older-women-but-pass-me-the-700-face-cream-20230310-p5cr19.html?ref=rss&utm_medium=rss&utm_source=rss_culture Why We Are Still Slaves To The Fountain Of Youth