Why this Sydney school is sending parents back into the classroom
On Trinity's Parent Swap Days, half of the 7th graders spend the day doing an activity at school while their parents take their seats from 8:30am to 3:15pm, which allows for class and assembly attendance, and use of the cafeteria, playground and playground Children includes lockers.
Principal Tim Bowden said the open house was designed to give parents a glimpse into the life of a student and better understand "the cognitive load that every day brings".
"Coming into school as an adult is often a very different experience than you might remember. For kids, navigating high school is a different experience than elementary school, where there is one teacher and one class."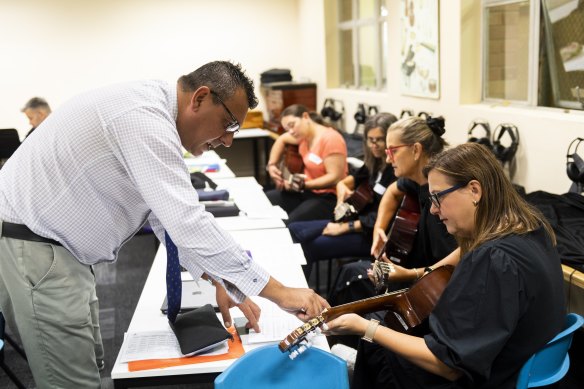 "For the parents, there's an opacity to secondary school, you don't get the same insights as at the primary school gate," he said.
Keriniotou, who said she chose Trinity because of the "individualized attention, structure and tradition," said spending a day as a student meant she was able to meet most of her son's freshman teachers.
Loading
Studies show that parental involvement in schools can lead to better student and school outcomes, but engagement tends to be greatest in the early years of school and then declines as students move on to secondary school.
Craig Petersen, chair of the Secondary Principals Council, said a close connection between schools and parents can lead to greater student motivation and aspiration, as well as better academic outcomes and well-being.
"Post COVID, we're definitely seeing more parents involved in P&Cs in some schools. We have the highest level of engagement in 7th grade, but then it wanes until 10th and 11th grade and when students start making HSC choices," he said.
https://www.smh.com.au/national/nsw/why-this-sydney-school-is-sending-parents-back-to-the-classroom-20230302-p5cowe.html?ref=rss&utm_medium=rss&utm_source=rss_national_nsw Why this Sydney school is sending parents back into the classroom