Why the Stella Maris Seafarers' Center at 600 Little Collins Street missed the National Register
"We try to make it a home away from home when they come in," said Quinn, who has been a volunteer for 45 years.
The rejection of the monument listing is disheartening for the organization, Quinn said, and he is worried about the future of their home. "The whole center was very disappointed."
In the Catholic Trust's submission to the Planning Board, prepared by heritage consultant Bryce Raworth, he argued that the center "is not widely known or considered iconic in Melbourne" and is only relevant to a small number of people.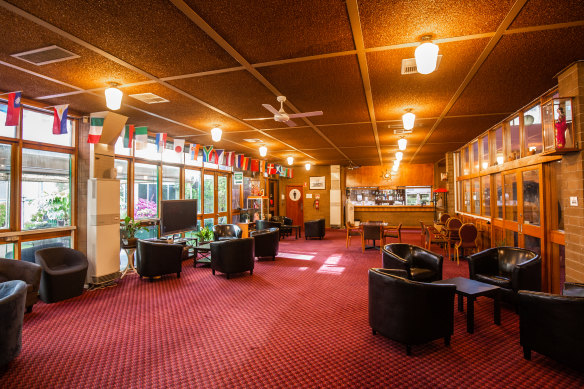 The Church submitted that Stella Maris had moved three times in about 90 years and that protection was unnecessary as the Mission to Seamen building on Flinders Street was already a listed building. "We don't need every example to complete the showbag."
Two heritage experts providing evidence for the council urged the building's protection, saying the community's small size shouldn't exclude it from its social importance and that the structure's unique design piqued the curiosity of passers-by.
The panel concluded that the importance of the site had not been adequately established and recommended that it not be included in the heritage review.
Loading
A spokesman for the Catholic Archdiocese of Melbourne did not comment on the plans for the site, but said they support Stella Maris continuing and strengthening in the future. They said the panel's decision was based on the building itself, not the importance of the organization.
"Stella Maris enjoys the Archbishop's support and trust [Peter] Comensoli, who has reiterated his gratitude for this service through his own visits," they said.
Melbourne City Councilor Rohan Leppert said the proposal to protect the Stella Maris building had been controversial but he supported the bottom line.
Paul Kucera, a member of the Stella Maris Committee, was surprised by the Catholic Church's position as they understand Stella Maris' work and the two groups generally have a good relationship.
"The community that we benefit and for which we provide welfare is invisible. It comes and goes in the middle of the night," Kucera said.
"They visit our shores, bring our goods inland, they are foreigners, but they see Stella Maris as their place of safety and trust."
He hoped the building – which recently housed film crews for an upcoming Robbie Williams biopic – would be given a heritage protection roof to keep it part of the CBD landscape.
"How many buildings around Melbourne from the late 60's, early 70's with such an odd design?"
With the site now wide open for redevelopment, Kucera said his "biggest fear is that we'll be cut out altogether."
With Cara Waters
The morninging Edition Newsletter is our guide to the most important and interesting stories, analysis and insights of the day. Sign up here.
https://www.smh.com.au/national/victoria/unknown-not-iconic-why-this-cbd-building-missed-out-on-heritage-protection-20220919-p5bj5c.html?ref=rss&utm_medium=rss&utm_source=rss_national Why the Stella Maris Seafarers' Center at 600 Little Collins Street missed the National Register