Why the sought-after young star chose Wallabie's dream
Frost literally grew up in a rugby household, with father Steve, a former longtime Rugby Australia employee. As part of a roller coaster roadshow tour, Steve would sometimes bring home gems like the Rugby World Cup and the Bledisloe Cup.
"They stayed at our house for a few days," Frost recalled. "I probably wasn't too impressed with them when I was young, I guess I didn't understand what I'm doing now."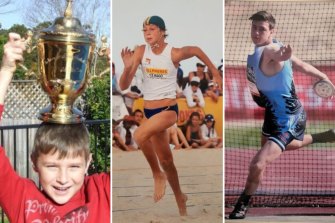 However, the Frost children were thrown into Little Athletics, Tongs and Gymnastics ahead of Rugby and young Nick began collecting medals like it's nobody's business. A junior beach sprint champion (good morning, Damien Cook), he embarked on a track stint that saw him win state titles in a number of events, including his favorite hurdles and throwing competitions.
At the age of 15, Frost finished second in Australia in the discus throw and won the pentathlon – 100m, 800m, hurdles, discus and long jump – in Perth. He also put together state-level basketball and rugby teams, and when he made his first XV in 10th grade at Knox Grammar, decisions had to be made.
Basketball was dropped and a shoulder injury helped the next call.
"Athletics was definitely an option to move on, especially discus, but I had shoulder reconstruction which I just rehabilitated to really get back to rugby and that was it," Frost said.
One day, in his bedroom, Frost received a call from the Sydney Swans' recruiting director. Would he be interested in playing for the Bloods?
"I'd never played a minute of AFL in my life but they said we'll improve your skills, you can go back to rugby but I wasn't very keen on switching sports at the time."
After playing at the Schoolboy State Titles in the 11th grade, Frost was approached by a Chiefs scout who was keen to get him over the ditch. Soon after, the Champion Crusaders also offered him a spot at their academy.
Frost also met with Waratah's officials, but the decision was made. He would move to Christchurch after school.
"The thought process was basically 'where can I go to be the best I can be in rugby?'" Frost said.
"Where can I get the best development and coaching at my age?"
The decision of an up-and-coming Australian junior to join New Zealand made waves – and headlines – especially given that Steve was an employee of Rugby Australia and has held roles in talent paths. It really started when Steve was quoted as saying that the Waratahs development system wasn't good enough at the time.
Some Rugby Australia officials were furious. Steve says he just prioritized what was best for his son.
"It was difficult, but it wasn't too difficult a decision either what Rugby Australia people said or didn't say. It was more like the Crusaders were interested and proud of their development program," said Steve Frost.
"At the end of the day, if someone says you can go to probably the world's best club team, you're going to take that. It was a big step for Nick. Missing school, he went through preseason and started. He didn't know anyone. It's helped him grow up and it's been really good for him."
On a three-year academy contract with the Crusaders, Frost soaked up life on and off the famous club's pitch. The notoriously demanding program gave Frost a rapid upbringing in professional rugby, playing in the Province of New Zealand Under-19 tournament and getting hands-on experience with the likes of All Black lock Sam Whitelock.
Has he ever considered staying in New Zealand?
"It's never really been a big issue that I've thought about, to be honest you're 18 so international rugby is years away," Frost said. "I just wanted to go there to be a better rugby player.
"It was a lot of fun. I was fresh out of school going to uni, we all lived together in rugby flats over there. I've made some great friends."
But the Crusaders Academy's reputation for producing more professionals than anyone else proved true, and 18 months into his Christchurch stint, the Brumbies and the Waratahs were offering full-time contracts. Frost came home with dreams of becoming a wallaby and chose to play under the tough school of Dan McKellar in Canberra. The U20 tournament was held shortly after and Frost made his debut for the Brumbies in 2020.
"Working under Dan and Laurie Fisher has an emphasis on Scrum, Maul and the tackle competition, and it's been a great place to grow," Frost said. "Dan has been great, it's been a bit of work for me over the years to build a bit of size and get physical in those areas but I feel like I've made good progress."
However, Frost's path to the Wallabies still had a twist left. Earlier in the year, Frost accepted an offer to play under Robbie Deans at the Panasonic Club in Japan after speaking with McKellar and Dave Rennie about his prospects of attending the 2023 Rugby World Cup (on the radar but down the List).
"The plan was after that and with a few more years of playing in a new environment, come back and crack the Wallabies again," Frost said.
Loading
But at McKellar's urging, Rugby Australia got back to Frost and asked if he would reconsider. A new deal was put before him and after a positive stint at the Wallabies camp in April, when it became clear the 2023 World Cup was within reach, Frost decided to stay.
"I really wanted to stay. It was an easy decision," Frost said. "Having a chance to play for the Wallabies was always a dream of mine, so it all happened pretty quickly."
Injuries and suspensions for Australia's suspension saw Frost move from the wider fringes of the Wallabies squad to the bench at Brisbane and now make the starting XI for Sydney.
Sporting curls say he's excited about the challenge but not nervous. This is the starting line he's dreamed of all his life.
https://www.smh.com.au/sport/rugby-union/frosty-the-showman-why-in-demand-young-star-chose-wallabies-dream-20220715-p5b1v8.html?ref=rss&utm_medium=rss&utm_source=rss_sport Why the sought-after young star chose Wallabie's dream