Why some players aren't raising their heads in the CBA salary dispute
Chairman of the ARL Commission Peter V'landys is the third wheel, of course, and you suspect that if he had interfered earlier the whole thing could have been avoided. On the other hand, he enjoys a fight.
V'landys' problem is that he left it to Abdo to negotiate a deal, and the former trade official has proved unable to pull this off.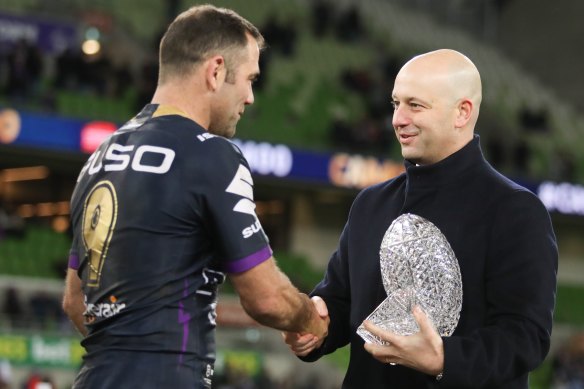 Abdo's predecessor, David Gallop and death Greenberghad its flaws but maintained a strong relationship with the playgroup.
Gallop famously held a conference at Coogee's Crowne Plaza in 2007 to walk players through the game's finances. It was a sham — half the players didn't even know the meeting was happening, and those who praised wore thongs and boardies — but the deal went through.
Greenberg ended the final CBA patch-off by breaking bread with Storm Captain CameronSmith at dinner, probably by candlelight. Now on the other side of the fence for the Australian Cricketers' Association, he plays Cricket Australia after a break.
Trouble is, Abdo looks at the world through a commercial lens, while Newton will tell you all about the lens and what that lens means to rugby league with indecipherable corporate babble without taking a breath.
So much misinformation is being leaked that it's impossible to choose sides, but the palpable distrust between the two parties is well summed up in a chat between a manager and his player just before Christmas.
On December 23, the NRL announced a salary cap increase from $9.6 million to $12.1 million. It was a Christmas miracle!
"Hey bruz," said the manager. "After that salary cap increase, you're now getting an additional $260,000 over the next three years. Merry Christmas."
Loading
On the surface, the player should buy lunch for V'landys and Abdo for the rest of his life. The truth is that Santa Claus only came down the chimneys of a select few.
The player had a lock clause which many of the top players can put into their deals but the bottom end can't. The managers can easily sell how good the business is – because they get a 6 percent commission.
It was also a dirty pool of the NRL because the media release was released without consulting the RLPA and those who pushed back on it were immediately labeled greedy.
The NRL could win the public relations battle, but that move eroded any remaining "good faith" it had towards the gaming group.
As a result, both parties argue about hardship and retirement provisions, contractual rights and expected income.
The pension and hardship funds are worth it. Every time an emotional story is played about a player going through hard times or suffering from dementia brought on by too many headbutts, fans complain that the game isn't doing enough. Big ups to the players who are passionate about guaranteeing that cash.
But even with something as fundamentally good as this, the NRL and RLPA can't get on the same page.
A News Corp story ran on Wednesday claiming the NRL had offered $200 million for those funds. Newton blew up when he read it, called the reporter and claimed it was $15 million. That's a discrepancy.
The RLPA says it wants to control the funds. The NRL says it will have a subcommittee with 50 percent representatives split down the middle. Tomayto, Tomahto? With or without carbon dioxide?
Honestly, it's like listening to the Hatfields and McCoys.
Newton has said he would be open to any party coming into a room to work things out. Maybe they should have gotten a room six months ago.
Here's free advice in corporate language: all parties need to stop boiling the ocean, open the kimono, cut the fat and make a damn deal.
V'LANDYS DENIES THAT HE KEEPS RIDEING
Meanwhile, V'landys has dismissed growing speculation that he will step aside once the CBA is signed, which could be 2045 the way things are going.
In fact, there is already talk of always being exhilarated Kate Jonesthe former Queensland Secretary of Tourism, takes on the role.
V'landy's term ends in March next year.
"No, I don't intend to go yet," he said. "Its a lot to do. But every well-run organization has a succession plan."
CHOOK'S NEW COOP IS IN A DIFFERENT CLASS
The Roosters unveiled their $10 million Center of Excellence on Tuesday night, rightly naming it after their longtime chairman Nick Polit. He also had some zingers in his speech.
First mentioned Politis like Jacob Packer was on the board when he joined us in 1993, but "we won't talk about him too much because he crossed the line". Packer now co-owns South Sydney.
He also pointed out that the club has a whopping $150 million net worth on their books, which is far more than the NRL. After apologizing for not attending, Andrew Abdo was mysteriously an hour late for the event.
Located under the north stand of the Allianz Stadium, the training facility has the state-of-the-art facilities expected of Premier League-winning football teams.
But the real highlight is The Foundation Room, a curated museum with a secret reading room behind a large wooden door. Channel Frank Hydes Call of Eastern Suburbs' 1974 Grand Final win over Canterbury is in an endless loop.
Meanwhile, the players in attendance looked like lean, mean rugby league machines thanks to a ridiculous 40-hour fast initiated by a newly appointed nutritionist and legendary former full-back Anthony "The Mincat" Minichiello.
At 81, Politis doesn't look like slowing down. He informed those present that he would only give up the presidency in a few years.
CLARKE WORKS NOOSA TALK
Clearly ex-Australian captain Michael Clarke and today host "Karlos" Stefanovic struck a handshake deal never to mention the war, also known as their rumble in the Noosa Jungle, earlier this month.
Their respective silences on the subject prove it. Clarke said very little when he returned to the airwaves on Monday morning Big sports breakfast.
However, he still has a notable legacy from the incident: a blackened leg after severely tearing his hamstring during the riot.
BOL LEADS THE STEP TO GET THE RECORD
Australian runner Peter Bol's very public response to the return of a positive A sample for the banned substance EPO is a crisis management study.
As a rule, athletes go under when they get involved in a drug scandal. Bol conducted interviews with Nine Newspapers and News Corp and declared his innocence.
Loading
It's no surprise considering it's managed by The Fordham Company, which has been handling some crises with TV stations lately Lisa Wilkinson and Crocodile Wrangler Matt Wright.
Athletics Australia also displayed rare speed and agility, putting Bol's name on the map before, as many expected, he was named Young Australian of the Year. (Instead, that award went to Socceroo Awer Mabil).
Unfortunately, lifting a drug ban is more than a public relations exercise, especially for EPO, which only stays in the body for a short time.
THE QUOTE
"You guys are a pub team." – the words in a spray in the dressing room that allegedly caused Macarthur FC to be sacked Dwight Yorke as coach less than a year after his appointment. It must have been one hell of a serve for the former Manchester United star to tear up his contract.
THUMBS UP
My column earlier this week compared Phil Gould to George Costanza sparked a few pearls among our readers: "Kyle Flanagan — I choose not to run"; "Awaiting Gus' announcement that Vanderlay Industries has signed as shirt sponsor"; "Gus is also known for wearing velvet and eating blocks of cheese while watching the workout"; "I wonder if Gus sleeps under his desk?"
Loading
THUMBS DOWN
It's always amazing that players and/or people complain about two things related to the Australian Open every year. First, that it's hot – welcome to summer. Second, that some games end late – welcome to late-night sessions of Grand Slam tennis. Why don't we play the tournament in a freezer and put a time limit on the games?
It's a big weekend for… the Sydney Sevens, the three-day dress-up, heavy drinking, maybe rugby spectacle at the Allianz Stadium from Friday. The Australian men's team meets Brazil at 13.50 on Friday, while the women's team meets Spain at 20.03. It should be great fun in the city's new posh stadium.
It's an even bigger weekend for…Novak Djokovic, who I can exclusively reveal, may or may not have a dodgy Achilles tendon as he pushes for a 10th Australian Open title. He has to get past American Thomas Paul in the semi-final on Friday then the winner of the other semi-final in between Stefanos Tsitsipas and Karen Khachanov in the final. I have a torn right calf in case anyone is interested.
https://www.smh.com.au/sport/nrl/i-m-not-that-stupid-why-some-players-aren-t-sticking-their-head-up-in-nrl-pay-dispute-20230126-p5cfkm.html?ref=rss&utm_medium=rss&utm_source=rss_sport Why some players aren't raising their heads in the CBA salary dispute