Why James Sicily felt like a 'cheater' despite being named captain of the Hawthorn Hawks
James Sicily has revealed it was only a week after he was announced as Hawthorn captain – surrounded by fans – that he realized how serious the honor was.
Sicily was touted as the Hawks' next skipper when Ben McEvoy retired last year, but it was the club's annual family day when he all realized he was joining the likes of Luke Hodge, Sam Mitchell, Leigh Matthews, Michael Tuck and Graham joined Arthur.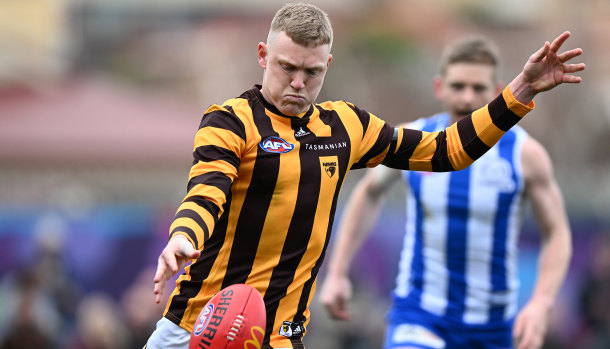 "First of all I feel very privileged but I probably didn't understand how important that was until we had Family Day and we had a huge turnout at Waverley," said the 28-year-old Age.
"All the fans gave me a lot of congratulations and I felt really supported by them, so it was a very cool experience [but it was also] a bit discouraging.
"We had a lot of ex-players there who had incredible careers, so I still feel a bit of an impostor in that sense at the moment, but I'm just trying to be myself and not someone else."
Sicily's transformation from a talented but unpredictable striker and occasional hothead to an all-Australian defender and now captain is well documented, but he will wait until his career ends to reflect on his unlikely journey.
"I can understand the intrigues about it; how i've walked since i started until now. I feel like that's just part of getting better and learning and making mistakes and all those things," he said. "I haven't really thought about it yet. No doubt I will – most likely when I'm done with the game and can look back and think, 'Well, pretty cool twist', but right now I feel like I have a job to do and I want to do it well ."
Being a first-year captain is tough enough without considering the lack of experience at Hawthorn following the departures of McEvoy, Jaeger O'Meara, Tom Mitchell, Jack Gunston, Liam Shiels, Kyle Hartigan and Tom Phillips for various reasons.
Sicily, Jarman Impey, Sam Frost, Karl Amon, Blake Hardwick, Chad Wingard, Luke Breust and recruit Fergus Greene are the only Hawks who will start the season at least 25 years old.
https://www.smh.com.au/sport/afl/why-sicily-felt-like-an-impostor-despite-being-named-hawks-captain-20230312-p5crf4.html?ref=rss&utm_medium=rss&utm_source=rss_sport Why James Sicily felt like a 'cheater' despite being named captain of the Hawthorn Hawks