Why does Sydney have three incompatible train systems?
The dysfunction and mismanagement of the previous NSW government's transport minister and department continues to give ("Lines too different to share trains", May 29). From ferries not fitting under bridges to not coping with sea-swells, trains with structural cracks and safety issues delaying use for three years and cost and delivery overruns, we now have three metro lines in one city that are incompatible with each other. Who was in charge – the Joker? It would be funny if it wasn't real. Utopia scriptwriters, take note. Rowan Godwin, Rozelle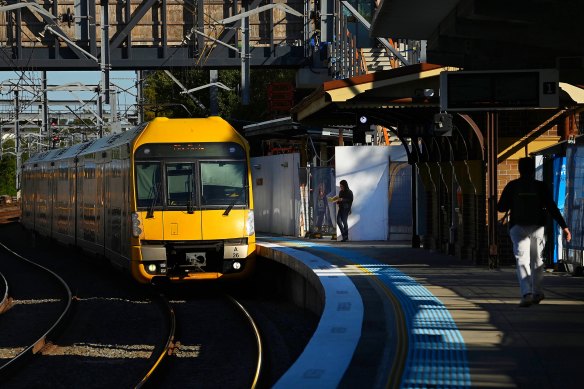 Upgrades to trains, power and signalling on the Sydney trains network also creates incompatibilities between trains and tracks. A sensible government and network operator plots an upgrade path that prioritises commonality for maximum service at lowest cost. A major mistake of the previous government is dedicated airport trains and lines. The best airport rail service is a metropolitan rail network that allows easy access to airports via every combination of rail lines.
The thing the people of NSW must protect, that the industry may not, is the relationship between trains, platforms and rail corridors that puts our Waratahs among the world's best commuter trains. Within these dimensions, we can still do better for people with shopping and baggage, and for faster entry and exit at the busiest stations. Peter Egan, Mosman
Only in Australia could there be a decision so manifestly stupid as the one revealed in today's story. The sheer lunacy of building three new incredibly expensive projects to different specifications defies any logic. And then we learn the carriages on the Western Sydney Airport line are too wide for the Metro West line, meaning passengers will need to change trains at St Marys. I simply have no words to express my anger at this stupidity. Ross Corrigan, Redfern
Transport and planning consultant Alex Gooding says in the story that "we are building a system from the ground up, but the previous government appeared to have deliberately designed a range of incompatible features, which makes no sense". I can only assume it was incompetence or political convenience. Or both? Paul Reid, Campsie
More news of another transport project in Sydney which is incompatible with all previous transport projects. When it came to building public transport infrastructure, no one could ever accuse the former Coalition government of seeing the big picture. Doug Walker, Baulkham Hills
Alex Gooding clearly explains the lack of technical standardisation and thus the interoperability problems in the new Sydney metro lines. Limiting all subsequent metro lines to the same technical specifications as the original contract may have been anti-competitive, but it could have helped. Sadly, the current metro technical shemozzle is a result of the previous state government's urge to dis-integrate and privatise separate parts of our public transport system. Evan Bailey, Glebe
After so many years of outsourcing, privatising and avoiding pesky unions, the Coalition has left NSW with a system that defies logic. Transport Minister Jo Haylen believes transport should work for passengers: well, that will be a first. I wish her luck. Where does she begin? Nola Tucker, Kiama
The NSW Labor government has inherited the poorly designed Metro mess. I suppose there are water-tight contracts and potentially large financial penalties if the government tries to fix the mess. I hope it will be a constant reminder of what not to do in the future. Denis Goodwin, Dee Why
Listen to those who deserve a hearing
No, Sean Kelly, I don't believe we can stand in another man's shoes but we can listen to someone who is always in those shoes and take note ("Can we stand in another's shoes?", May 29). Such was my experience over the weekend at the Sydney Writers' Festival, listening to Thomas Mayo, co-author with Kerry O'Brien of an explanatory book on the case for the Voice. Mayo made the very simple and compelling case for a Yes vote. Don't First Nations people deserve to be permanently heard, knowing that this will remain the case regardless of whatever party is in government?
Max Redmayne, Drummoyne
Sean Kelly adds a powerful perspective. The 1967 referendum received massive support because there was a clear benefit to Aboriginal people in fixing an unfairness in the Constitution while not causing harm to others. This time, the level of certainty about the former is not nearly as strong, and there's a big dose of wariness about the latter. That makes this result far less predictable and there is a real risk that the latest attempt to change the Constitution to benefit Aboriginal people will fail as voters retreat to shield themselves from possible detriment. It's a sad fact that people will not want to walk in others' shoes if they think it means their own will no longer be as comfortable to wear. Adrian Connelly, Springwood
A number of years ago, I was part of a team investigating the impact of racism on the health of Aboriginal people. During one discussion with a group of Aboriginal men, we had a break for a cup of tea. I said to a team member that the group wasn't telling us what we needed. His response: "Oh, they're telling you all right; it's just that you're not listening." Graham Fazio, Cootamundra
Sean Kelly reports that lately "empathy has become more prominent". I wonder if that is because we have all seen an empathetic community in action during recent natural disasters including the Black Summer bushfires and the Northern Rivers floods. Greg Baker, Fitzroy Falls
Life is not straightforward, and it involves paradox, uncertainty and inexactitude. Try as we do to empathise with others, and even to "walk in their shoes", we can never fully understand the life experience and perspective of another person. As we embrace diversity and negotiate complex challenges together, we need to honour intention and err on the side of generosity of spirit. Meredith Williams, Northmead
Whitewashing
It is of course praiseworthy that police and other authorities have worked together to seize $60 million worth of cocaine ("Two men charged after 120kg of cocaine found in shipping container", May 29). This stash, however, is just the tip of the iceberg with the drugs trade in Australia running at more than $10 billion annually. This trade is mostly in cash, with some in crypto or gold, and fuels money laundering via the purchase of houses, cars and expensive luxuries.
Addressing the cash lost to money launderers is just as critical as tax reform. Australians only use cash for 6 per cent of transactions. As a start, we should remove $50 and $100 bills from circulation; this would impact drug syndicates and individuals evading taxes. Eventually, adopting a fully cashless system would effectively reduce crime rates, mitigate gambling and drug addiction, and alleviate the tax burden for law-abiding citizens. John Kempler, Rose Bay
Opioids work
It is not only people with a terminal illness who require opioids, which may lead to addiction ("Don't force the dying to doctor-shop for morphine", May 29). My doctor prescribes a form of opioid for me to manage chronic pain. The particular drug works well and has few serious side-effects. After long-term use, I am mildly addicted but as I will turn 90 in a couple of years, this is not likely to be a problem. The withholding of the medication for whatever reason would fill me with dread. Derrick Mason, Boorowa
John O'Brien and I are in a similar boat: painful and terminal prostate cancer, lack of treatment options. I also take time-release pain relief and have access to "breakthrough" opioids should time release prove ineffective. I have access to an oncologist and hospital, an attentive palliative care team and an observant general practitioner who all understand the value of morphine in addressing pain. Peter Dwyer, Epping
Leeser leadership
I agree that Julian Leeser shows excellent leadership qualities of empathy and integrity ("Letters", May 29). All Australians can develop good personal understanding and vote Yes for the Voice. Bea Hodgson, Gerringong
Leeser, unlike Peter Dutton, has acted with empathy and integrity. We can look forward to the day when he becomes a contender for the Liberal leadership; that will mean we are a better country. Mark Porter, New Lambton
It seems so many ex-politicians and ex-PMs get so much wisdom after they leave office. What a pity they had to leave parliament before they could offer such intelligent insights to our social and economic problems. Denis Suttling, Newport Beach
PwC reckoning
Congratulations to senators Deborah O'Neill and Barbara Pocock for their work to date exposing the PwC scandal ("Push to name PwC partners to heat up", May 29) Next step will be publicly naming any other partners involved. I'm looking forward to hearing the Tax Practitioners Board's explanation about why PwC partner Peter Collins was the only person banned over the scandal. Let's hope that this doesn't end up like previous financial scandals when the culprits have escaped with a fine and a light tap with a feather duster. Nick Franklin, Katoomba
Chicken Littles
Racism is alive and well in Australia ("Leaders urged to avoid race debate", May 29). There are legitimate questions being asked by some No campaigners and undecided voters, but unfortunately the No campaign has provided a haven for racists. Constitutional recognition of First Nations people will go a long way to defeating racism by demonstrating that the majority of Australians will no longer tolerate it. Graham Lum, North Rocks
Today we learn that the divide over the Voice extends to the two key commissioners for Race Discrimination and Human Rights. The Voice referendum is another step in a long journey to redress inequality and disadvantage which is the result of dispossession and disenfranchisement. Philip Cooney, Wentworth Falls
In America, Republicans put the state of their nation and the world financial system in peril, to play politics ("The US will pay a heavy price for its damaging game of chicken", May 29). In Australia, the LNP risks the unity of the country with its disingenuous stance on the Voice. In both cases, we see the dangers of a born-to-rule mentality mixed with religious self-righteousness. Phil Bradshaw, Naremburn
NSW forests next
I hope the NSW government will follow the example of other states when it comes to ending native forest logging ("Editorial", May 29). The Victorian government is ending the practice, while Western Australia and Queensland are taking steps in the same direction. Ending the wasteful practice of felling native forests would bring opportunities in tourism and better water security and there are also benefits for emissions reduction. The NSW government needs to take a strong stand on native forest logging. Or perhaps it's time federal Environment Minister Tanya Plibersek stepped in. Anne O'Hara, Wanniassa
The announcement by the Victorian government of the shutting down of native forest logging raises the question of why – in 2023 – the logging of old-growth forests should occur at all. Would there be a more anachronistic industry anywhere in the world? At a time when we are dealing with climate change and animal habitat, the logging of old-growth forests, ostensibly to keep people employed, is long past its use-by date. Stewart Copper, Maroubra
Eternal war
George Brandis' piece which evaluates the Ukrainian war and predicts possible outcomes is accurate ("The war won't be over even if Ukraine wins", May 29). Brandis concludes his piece by quoting "military victory will not equate to strategic peace".
With Western military aid, Ukrainians might achieve their military goal of driving Russia out of eastern Ukraine. But unless Vladimir Putin is toppled or eliminated, Russia will remain a threat. There is little point in re-building eastern Ukraine; the Russians will be back under the despotic, amoral and narcissistic Putin. Geoff Black Caves Beach
Party beholden
The Liberals are no longer the Menzies party ("Parties Divided", May 29), they are the Murdoch party. Ian Clarke, Terrigal
Amazingly anti-social
There are many like Kate Halfpenny who say they are sick of social media ("My reverse seachange column brought out the haters", May 27). Here is a simple answer to such a problem – don't use social media. Joanna van Kool, Crows Nest
Things might become a little clearer if we were to rename it to what it really is: antisocial media. John Burman, Port Macquarie
Angry Roys
Your correspondent asks "were we always this angry?" (Letters, May 29). I'm looking forward to watching the final of Succession for some light relief.
Alicia Dawson, Balmain
War hero
Frank McGovern is a true war hero. ("POW dodged death at sea more than once in WWII", May 29). Graham Russell, Clovelly
Music memories
Those of us who remember, and are fans of, British music of the '60s must be wondering: is your correspondent Jeremy Eccles a relative of Jennifer? (Letters, May 29). Trevor Sheridan, Charmhaven
Abbott's plan
People are wondering why Tony Abbott went to Ukraine ("Abbott laments Albanese government's lack of support for Ukraine", May 26). His plan is obvious – to slip across the border undetected, make it to Moscow and finally (belatedly) "shirtfront" Vladimir Putin. Ian Morris, Strathfield
The digital view
Online comment from one of the stories that attracted the most reader feedback on smh.com.au.
Why Sydney will end up with three incompatible metro train lines
From Distopia: Ultimately it's about making these lines profitable and exclusive for the operators rather than saving taxpayers' money.
To submit a letter to The Sydney Morning Herald, email letters@smh.com.au. Click here for tips on how to submit letters.
The Opinion newsletter is a weekly wrap of views that will challenge, champion and inform. Sign up here.