When the weather report in Bundanon becomes a work of art
The new sculptures and installations contain repurposed natural materials. In response to the artists' on-site residencies and the architecture of the art museum, they explore the idea of ​​mapping changes to internal, emotional weather systems.
Organic and man-made materials combine everywhere – from Vaughan's brick wall made from beeswax, to Scarifield's brick made from local algae biomass and oyster shell waste, to Simpson's freshwater mussel shells made from recycled TV glass.
The Possum Cloak Project on display at the museum is the result of the Possum Skin Cloak Project residency conducted earlier this year by Leanne Bovington, Teagan Brown, Bee Cruse, Gulwanyang Moran, Bess Moylan, Carol Moylan, Aunty Loretta Parsley, Joyce Saunders, and Kirli Saunders.
Partnerships with local and international organizations are central to these siteworks. As a mark of its unique environmental position, Bundanon is the sole Australian representative in the online project World Weather Network, a global group of 28 arts agencies dubbed "Weather Stations" by UK organization Artangel.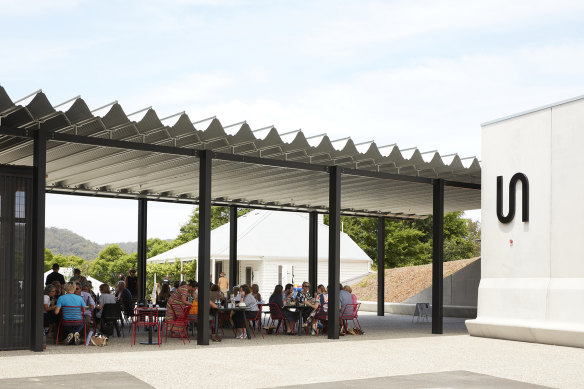 In the art museum's "laboratory", Bundanon's digital commissions for the network can be experienced alongside artist-designed activities.
Loading
One such activity is the work of artist Fernando Do Campo Follow the pink ribbon, which takes its name from pink signpost ribbons tied around the property. Do Campo's interest in a site's species history is linked to his own migration history.
"What is native in one place is alien, alien, or a nuisance in another," he observes.
Do Campo has written postcards to the stuttering frog, magnificent lyrebird, eastern gray kangaroo and house sparrow, all species with stories related to Bundanon, and invites visitors to write their own messages to creatures she encounters during her visit are or hope to do so.
Another partnership, The Tellus Art Project (a collaboration with UNSW Art & Design, Sydney Royal Botanic Gardens Herbarium and Open Humanities Press) addresses "plant blindness": the inability of many people to recognize or appreciate plants around them.
Tellus includes the work of Rebecca Mayo The Plant Sensibilia machinea large hand-operated textile dyeing machine whose steaming dye bath contains a blend of overlooked local plants.
"Plants are central to human and animal life," says Mayo. "But what is the intrinsic value of plants in themselves?" Co-developed with Yuin elder and Walbanga woman Aunty Deidre Martin and Jacob Morris, a guardian of the Gumea Dharrawal language, Mayo becomes the machine on the most important weekends of Activate siteworks on the riverbank.
Another work by Tellus, the video by Erica Seccombe walk beside me was also created in collaboration with Martin, who works as an Aboriginal Discovery Ranger for the National Parks & Wildlife Service.
"I also saw plant blindness as cultural blindness," says Seccombe. "I found that whenever I was with Deidre, I started to realize that plants have a lot more meaning."
Construction sites: From a deep valley
Until March 12, 2023.
Bundanon Art Museum opening hours: Wednesday-Sunday, 10am-5pm
Site Works Key Weekends: 14.-15. and 28.-29. January; 25-26 February
www.bundanon.com.au
A cultural guide to going out and making love in the city. Sign up for our Culture Fix newsletter here.
https://www.smh.com.au/culture/art-and-design/when-the-weather-report-becomes-a-work-of-art-at-bundanon-20221216-p5c706.html?ref=rss&utm_medium=rss&utm_source=rss_culture When the weather report in Bundanon becomes a work of art