When a 15-year-old Australian Rene Colusso was flown to Brazil to train with Pelé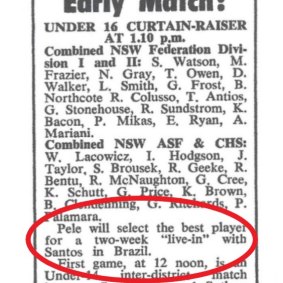 "It was released for all the young kids… all the young kids knew they could do the test matches and had a chance to be picked for that game and be picked to go to Brazil," Colusso said.
Colusso, a midfielder, was selected for the opener and scored twice in his side's 4-2 win. His club colleague Berti Mariani also scored twice. A selection panel recommended Pele's pick and the superstar took the field.
"When Pele arrived they asked him to go out and pick the player, so we all turned around and he just came up and tapped me on the shoulder," Colusso said.
Colusso was overwhelmed, but only a few months later he was on a plane to Brazil. Via some Marconi fundraisers, Mariani was also sent on the trip and the boys were joined by well-known News Limited football journalist Tony Horstead as the competition had been heavily promoted The Sydney Mirror.
"It was a very incredible experience. We went to Santos and trained there for nine or ten days," said Colusso.
The travelers stayed in team quarters, trained, met a slew of stars and watched a handful of games, but only saw Pele once more.
"As a famous player, he was very busy," said Colusso. "He was 33 or 34 years old and nearing the end of his career and about to play in America for New York.
"After we went from Sao Paolo to Rio de Janeiro and trained with Flamengo – Zico was there – and then also trained with Botafogo. Flamengo wanted to keep me and Berti there, but it wasn't going to work out so young and with parents and school and all that."
Colusso returned home and played for Marconi's top team at the age of 17. In 1975, aged 19, he earned a full cap for the Socceroos against China in Melbourne, after writing a letter securing a trial with Torino.
Colusso became the first Australian to play professionally in Italy and was on the verge of a star career in Italy the next year when his form on loan at Pisa saw him receive offers from giants Juventus and Fiorentina. But the following week Colusso injured his knee and Serie A opportunities were over as he recovered and played again.
A solid career followed with several clubs in Italy's second and third divisions, playing for eight clubs over 14 seasons before Colusso retired in 1986. With very different lines of communication to Australian football than today, Colusso was never called by Socceroos selectors again.
The Australian went on to manage two Italian clubs, Reggina and Avellino, and became a well-known and well-connected figure in Italian football. A successful jewelry importer, Colusso still splits his time between Australia and Italy.
Mariani also played for Marconi and Apia and was a successful manager of Marconi and Wollongong in the National Soccer League.
Colusso caught up with Pele again during a promotional visit by the Brazilian great to Sydney in 1990.
Given all the people and places Pele had experienced, Colusso didn't expect his brief visit to Santos in 1972 to ring any bells.
"But he remembered me and everything perfectly. We spent about 30 minutes together and had a coffee, he remembered the day and me," said Colusso.
Loading
"He was a beautiful person. He was a gentleman, he had time for everyone and it was real."
https://www.smh.com.au/sport/soccer/when-a-15-year-old-aussie-was-flown-to-brazil-to-train-with-pele-20221230-p5c9fq.html?ref=rss&utm_medium=rss&utm_source=rss_sport When a 15-year-old Australian Rene Colusso was flown to Brazil to train with Pelé