What to read next this summer
in her blood
Nikki Crutchley, HarperCollins, $32.99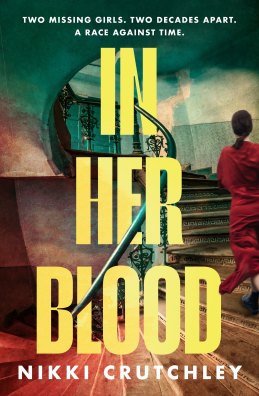 Only a crisis could have brought Jac Morgan back to her hometown. It's been seven years since the deadly house fire that killed her mother and made Jac a suspect, but she is forced to return home when her sister Charlie goes missing. The search for her uncovers a disturbing echo of Jac's childhood. Two decades earlier, a girl named Paige Gilmore went missing during the annual Gilmore Hotel Open Day. The hotel is said to have been haunted by her ghost. What really happened to Paige, and if there's a connection to Charlie's disappearance, remains a mystery, but if anyone knows, it must be the hotel's eccentric owner, Iris, and her remaining, ailing daughter, Lisa. This psychological conundrum initially looks like it's revealing too much too soon, but it's actually a slow burn. Nikki Crutchley allows time for a stew of toxic emotions to bubble up, and she works in an expertly convoluted twist.
Nonfiction books of the week
The Writer's Journey: In the Footsteps of the Literary Greats
Travis Elborough, White Lion Publishing, $39.99
When Heinrich Boll bought a house in Ireland he was enchanted by the Irish sense of time and found that films in the local cinema never started before the priest's arrival, whatever the hour stated – the explanation was: "When God created time, he made a lot of it".
These canned travelogues by writers are an entertaining mix of the informative and the funny. Flaubert's travels to the exotic "East" cured him of the exotic enough to turn to the everyday story of a certain Bovary woman; Katherine Mansfield's prolonged stay in a German health resort gave her In a German pension; Agatha Christie spotted a character for Murder on the Orient Express; and the aviator and author Antoine de Saint-Exupery may have crashed in the desert, but it arguably gave him his best work, wind, sand and stars. This is an on and off book.


Hudson Fysch
Grantlee Kieza, ABC Books, $45
Pigs may not fly, but a certain kangaroo does. And while we're all familiar with the flying kangaroo, how many know its founder, Hudson Fysh? Grantlee Kieza's comprehensive biography is an epic tale of the man and national icon through his many incarnations – beginning with Fysh's early years in Tasmania, his school years at Geelong Grammar, his joining the Light Horse and his arrival in Gallipoli (without a horse). But it was joining the fledgling Australian Flying Corps that changed things. He flew gunner missions (without a parachute), learned to fly and after the war traveled the outback of Australia with an army pal in search of a suitable base for a national airline. There were setbacks and challenges, but Qantas came out again. It's a tale of vision, daring and determination, told in great detail – too much – but if you're going for the long haul it's a worthwhile read.
turning points
Ed., Mary Ryllis Clark, Monash University Publishing, $29.99
The revealing motif of this collection about crucial moments in life is the poem by Robert Frost The path not taken – except in this case it is the path taken. The late Indigenous elder Jack Charles begins his story with the extraordinary line: "The great revelation for me happened the last time I was in prison". He tells how he participated in the Marumali healing program, got off drugs and became the spokesman for his people. It came as little surprise to Robyn Davidson that the outback hike led to the bestseller Sense this changed her life in several ways. For Andrew Wilkie, it was the decision to expose the Howard administration and the mythical weapons of mass destruction at great personal cost. In a fascinating essay about her work, Anna Funder talks about a kind of duty to tell stories that have not yet been told. These are stories of those who took the plunge.
The Young Menzies: Success, Failure, Resilience 1894-1942
Ed., Zachary Gorman, MUP, $39.99
Ah, the 1950s in the shadow of Robert Menzies. It is this perception of the Menzies era as synonymous with a nation dozing through what Paul Keating called the "Rip van Winkle" years that these essays by contributors appeal to from both the right and the left.
Former Liberal MP David Kemp paints a picture of a Menzies not only concerned with ideas, particularly Enlightenment liberalism, but also driven by big ideas.
Troy Bramston says we can't understand Menzies if we don't know his small-town, lower-middle-class origins and the guilt that drove him into public service for not enlisting in World War I. Judith Brett emphasizes the Deakin connection, Frank Bongiorno the complex Menzies/Curtin relationship that often transcended party politics. A collective portrait of a man we would today call an old-fashioned liberal, not a neo-liberal.
The Booklist is a weekly newsletter for book lovers from book editor Jason Steger. Get it delivered every Friday.
https://www.smh.com.au/culture/books/what-to-read-next-a-thrilling-outback-mystery-and-writers-on-the-road-20221230-p5c9j0.html?ref=rss&utm_medium=rss&utm_source=rss_culture What to read next this summer