Wests Tigers' Anzac Day kit should get you thinking about tacky themed kits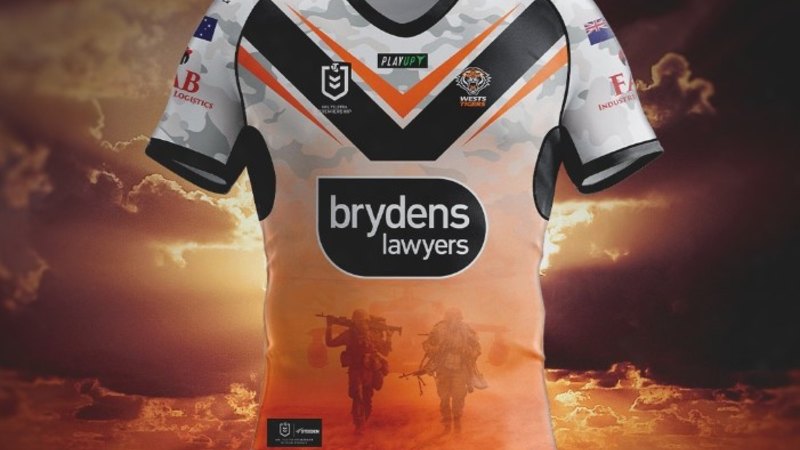 Since then, the country has changed and so has the way Australians treat April 25th. It's not as sad as it used to be; there is a creeping Americanization, almost a glorification of war and glorification of those involved, with a touch of blind patriotism. It's becoming increasingly commercial; some call it "Brandzac Day". When I was a kid, it felt very different.
Loading
The approach to the sport has also changed. We went from a solitary game on Anzac Day that felt special and unique, to a bloated round of Anzac where the Last Post is now played up to a week after or before the day itself, all because the other clubs have seen the Pies and Bombers or Roosters and Dragons are raking in the money and wanting a piece of the pie. "Lest We Forget" becomes "Let's Gone Warriors" and the meaning is lost in the process.
Teams went from wearing a single poppy on their chest or the Australian Army's symbol of the rising sun, to dozens of poppies, or full grown silhouettes of soldiers and their weapons, or camouflage, or other images taken directly from the battlefield, or all of them Things together, sublimated in a very unsubtle way via a polyester fisherman's shirt.
Beauty is in the eye of the beholder, sure, and I could be wrong here, but there seems to be a decent number of sports fans who think these kits can be incredibly cheesy and tasteless, if not downright ugly. For what is meant to be (or was) a celebratory, respectful occasion, they're obnoxious, out of step with the zeitgeist. And they don't seem to do much for the cause they were designed for.
It's great that the Tigers are planning to auction the revamped Anzac jerseys (featuring real Australian diggers) that their players will wear against the Sea Eagles later this month, with proceeds going to Legacy – but giving on their website there is no suggestion that each of the $160 they ask players to go to the RSL, any army-affiliated charities, or anywhere other than the club's treasury.
Loading
You are not alone. Most other clubs in most other sports are looking for money. The entire industry seems to be using Anzac Day as a marketing opportunity, a chance to sell a few extra shirts, and not much more.
Obviously there's a market for this kind of flashy stuff because teams are churning it out. There's a black market for it, too: a quick Google search reveals a staggering amount of Anzac-related, likely algorithmically-generated, third-party flogged goods.
For example, if you're a Gold Coast Suns fan and are dying to show your appreciation not just for our troops but for Australia's indigenous communities as well… well you're in luck because that's exactly what you can do with this special Oodie worth $143.99 (that's a cross between a blanket and a hoodie—and a fair discount, too).
If anything, we should thank the Tigers for putting us at a turning point. Let's take a deep breath, step back and ask two simple questions: Why are we doing this? And can we do better?
Stream the NRL Premiership 2023 live for free 9Now.
Sports news, scores and expert commentary. Sign up for our sports newsletter.
https://www.smh.com.au/sport/nrl/wests-tigers-anzac-bungle-should-prompt-second-thoughts-on-tacky-themed-jerseys-20230405-p5cyc8.html?ref=rss&utm_medium=rss&utm_source=rss_sport Wests Tigers' Anzac Day kit should get you thinking about tacky themed kits