Westpac boss calls them 'blunt tools' hitting some Australians harder
Westpac chief executive Peter King has highlighted how rising interest rates are hitting some Australians much harder than others, as the bank's top economist suggested the next federal budget should include handouts for vulnerable households struggling financially.
As financial markets were betting on the Reserve Bank to hike interest rates again on Tuesday, King described the rate hikes as a "very blunt instrument" that added to the pain caused by the rising cost of living.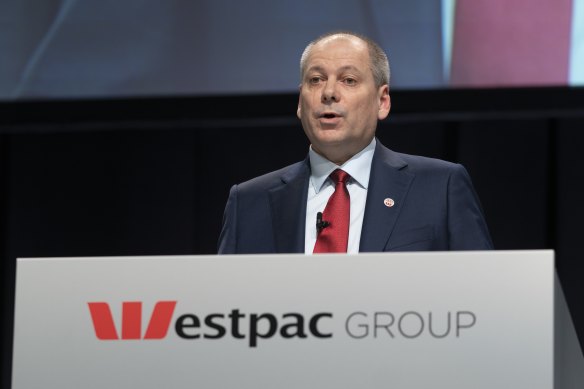 "Prices have gone through the roof, interest rates are rising and depending on where you sit there will be opportunities to grow and thrive or you may have to adapt to survive. So the impact will be felt very unevenly," King said in a speech to bank clients in Sydney.
King reiterated that Australia's economy started from a position of strength, with low unemployment, and said the bank itself has a strong balance sheet. But he said the nation is entering a weaker phase and Westpac is preparing to help struggling customers.
"The cost of living and inflation are serious challenges and they're hitting some Australians really hard. In response, the RBA is raising interest rates and we know this is a very blunt instrument that will be felt unevenly," he said.
In response to rising inflation, Australia's official interest rates have risen to 3.35% from 0.1% since May last year and the RBA is widely expected to hike interest rates to 3.6% on Tuesday. Money markets are betting odds that will eventually peak at more than 4 percent.
King made the remarks in a speech that signaled the bank's eagerness to enter a "new era" after a period of simplifying its business, and announced that its new purpose would be to "create a better future together." ".
"I think there's a real case in the budget for targeted support for people who are going through absolutely tough times."

Westpac Chief Economist Bill Evans
Speaking at the same event, the bank's chief economist Bill Evans cited RBA models suggesting that one in 10 adjustable-rate mortgage holders will soon run out of money after covering their repayments and living expenses. He supported using the budget to help people who were "having a really tough time".
https://www.smh.com.au/business/banking-and-finance/very-blunt-tool-westpac-boss-says-rate-rises-hit-some-australians-harder-20230306-p5cptj.html?ref=rss&utm_medium=rss&utm_source=rss_business Westpac boss calls them 'blunt tools' hitting some Australians harder