Westmead Children's Hospital is performing heart transplants but transfers in Melbourne are continuing
Scarlett was 13 when her parents told her her only chance of survival was a heart transplant.
"They told us we had two options: we can turn off her life support and let her die, or we can attempt a heart transplant," Kercher-Hack said.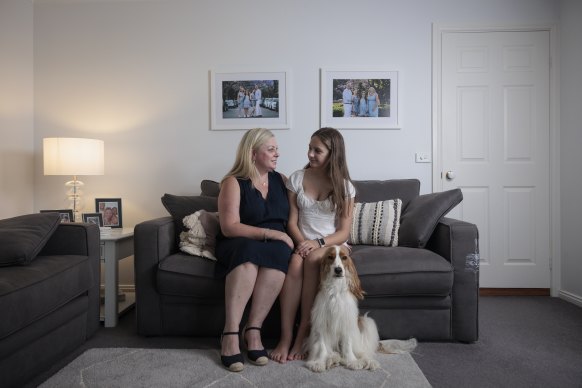 "We only had 14 days until a suitable donor became available. Otherwise Scarlett would be too far away [to successfully undergo transplantation]," She said.
The plan was to fly Scarlett to Melbourne on ECMO (a heart-lung bypass machine), an "extremely, extremely risky" exercise, Kercher-Hack said.
"A nurse later told me that they didn't have much hope that Scarlett would survive the trip," she said.
But when Victorian border restrictions thwarted her family's plans to move to Melbourne, Scarlett's pediatric cardiac surgeons Drs Yishay Orr, Ian Nicholson and Phil Roberts asked her parents if they would trust them to perform the transplant in Westmead.
"I said, 'Yeah, let's do it here,'" Kercher-Hack said.
They listed Scarlett on the St. Vincent's Hospital Adult Transplant Program heart transplant list as a stopgap at the eleventh hour.
CHW staff developed a care model for operating a heart transplant service that guided the complex and multidisciplinary work not only for Scarlett, but also for the four successful heart transplants that followed her.
Loading
Within eight days of being placed on the transplant list, Scarlett's new heart was on its way.
"You did it," Kercher-Hack said. "We owe everything [CHW]and it absolutely shocks me to think that other families here cannot get the same care.
"In a big city like Sydney, why are we putting children on planes bound for Melbourne with ECMO?"
Since those five successful transplants, five more children have been transferred from Sydney to Melbourne for heart transplants in 2022, the Sydney Children's Hospital Network (SCHN) confirmed.
dr Paul Jansz, director of the adult heart-lung transplant unit at St Vincent's Hospital, said there is "definitely" the demand, technical and medical expertise to run a pediatric heart transplant service at CHW.
"It's ridiculous that families have to move to Melbourne for this procedure," Jansz said. "We [can] fully supported with the infrastructure of our own transplant service.
"In my view, it's just the lack of will on the part of the administration and the supporting funding agencies."
Each transplant costs hundreds of thousands of dollars, even in the months of pre-care and follow-up care.
The Pediatric Heart Transplant Service at the RCH in Melbourne is a Nationally Funded Center (NFC) program that also covers ventricular assist devices (VADs) that some heart failure patients rely on while awaiting a new heart.
Loading
NFCs are funded from a pool of contributions from each state and territory — managed by the Health Chief Executives Forum (HCEF) — on a population-based formula.
A joint state and territory review of this NFC began in late 2021, led by NSW Health. CHW staff and parents interviewed for the review had hopes that they would recommend establishing a second pediatric heart transplant program at CHW.
They were told that the review would be completed within four to six months. More than a year later, no decision has been communicated.
Health Secretary Brad Hazzard directed questions to NSW Health. A spokeswoman for NSW Health said the review was still ongoing "after experiencing significant delays due to COVID-19" and final recommendations were expected before the end of this financial year.
The argument for operating only one service in Australia stems from the need to concentrate the small volume of cases in one location to maintain clinical expertise.
Fewer than 20 Australian children receive heart transplants each year, the spokeswoman for NSW Health said.
But the international benchmark for maintaining a high-performing pediatric heart transplant center is five cases a year – the number of children sent from NSW to Melbourne in 2021 – and centers treating a handful of cases over a three-year period are still up acceptable results.
Jansz said he had no doubt NSW had more than enough cases to justify a second service at CHW.
"There are units that do a lot less heart transplants and do them well," Jansz said.
"What the current numbers don't include are the children who are not placed on the waiting list because their families cannot relocate, or the children who may be treated with heart failure longer than necessary because there is no established transplant program in NSW."
"Then they get to the point where [their condition] falls off a cliff and they land on ECMO. It's catastrophic," he said.
Elizabeth Miroforidis has made the trip to Melbourne's RCH twice for her sons Elias and Alexander.
Both boys were diagnosed with Barth's syndrome, a rare condition characterized by an enlarged and weakened heart (known as dilated cardiomyopathy).
Born in December 2017, Elias struggled with heart failure for the first few months of his life. At just seven months old, he was put on ECMO and flown from Sydney to Melbourne to await a heart transplant.
Elias relied on a form of VAD – known as the Berliner Herz – to keep him alive.
But five weeks after he was put on the transplant list, a blood clot formed in the device, causing severe brain damage.
Elias was eight months old when he died.
"I held him while he breathed his last," Miroforidis said.
A mix-up with Elias' death certificate meant his parents drove back to Sydney unaware that his body had been left in Melbourne.
"I only saw him the day before the funeral," his mother said.
Elias' brother, Alexander, was born with the same fatal heart disease, although his parents were repeatedly assured that they did not carry the genetic mutation that caused it.
He was 18 months old when his heart function began to deteriorate.
The return trip to Melbourne was almost too traumatizing for Miroforidis.
"I remember telling his doctors, 'We can't go back to Melbourne. As soon as I walk through those doors, it's like I'm there with Elias. All that pain all over again,'" she said.
Alexander was listed for a heart transplant in NSW in early 2021, but it soon became clear that Alexander would also need a Berlin heart.
"We had no choice but to bring Alexander to Melbourne," said Miroforidis.
Once again, Alexander's family had put their lives on hold, this time moving to Melbourne for six months, enrolling his older brother Romeo in a new school and paying bi-state bills.
"Having to go through it all again ripped our family apart," Miroforidis said.
"It was incredibly unfair … but I swore to myself that this time we went to Melbourne I would come back with my kid," she said.
Alexander got his new heart just before his second birthday.
"Why are we sending children to Melbourne for heart transplants when we know Westmead can do it?" said Miroforidis. "This is madness."
Loading
The SCHN spokeswoman said she strongly supports the development of a dedicated heart transplant service at CHW and welcomes the opportunity to make a strong case for formal recognition.
But the hospital is struggling to keep up with overwhelming demand for its existing services amid what clinicians call chronic underfunding and a staffing crisis.
The waiting list for elective surgery had risen to a record 2,656 children by the end of 2022 – 779 of whom had waited longer than clinically recommended for their surgeries.
Operations and diagnostic imaging appointments are regularly canceled because there are not enough anesthesiologists or intensive care beds available.
Loading
Scarlett Hack's heart biopsy at CHW was canceled in January and again in February. The crucial procedure that will measure any rejection of her new heart has been postponed for next week.
Jansz said, "It's really hard for clinicians to survive in this environment where they are not supported to advance programs and they are constantly under pressure from dwindling resources."
The SCHN spokeswoman said her clinicians are committed to providing safe, quality care to all patients and that any child in need of urgent surgery will receive it promptly.
RCH declined to comment.
The Opinion newsletter is a weekly collection of views that challenge, support and inform your own. Login here.
https://www.smh.com.au/national/nsw/sydney-doctors-can-perform-heart-transplants-on-kids-why-must-patients-go-to-melbourne-20230309-p5cqrj.html?ref=rss&utm_medium=rss&utm_source=rss_national_nsw Westmead Children's Hospital is performing heart transplants but transfers in Melbourne are continuing