WA's Conservatives still have a long way to go, even after a change in leadership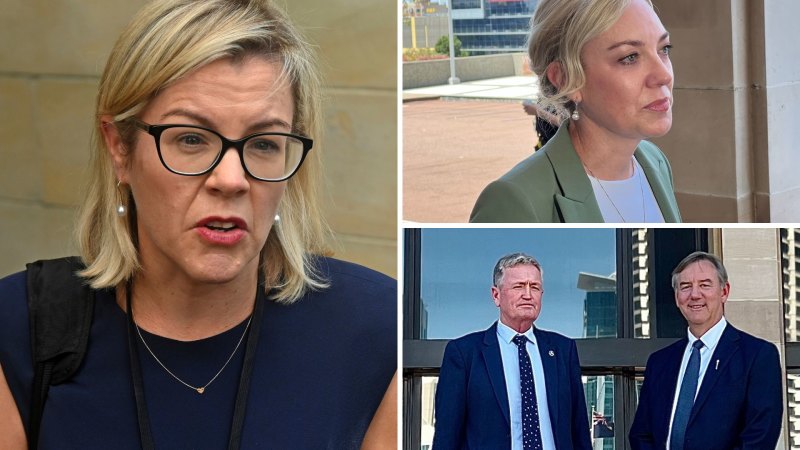 The challenge itself was easy. Revealed by 9News Perth and today Friday night was a done deal Sunday night when Honey decided he had no chance of winning.
9NewsMichael Genovese reported Monday morning that there would be no vote and that Honey would stand aside for a bloodless transition, and it proved it.
What followed was more chaotic.
The newly appointed Mettam insisted that Leader Nick Goiran step down from his position as Parliamentary Secretary.
He declined, and his peers supported him, not their new leader.
In some circles this has been reported as evidence of Mettam's authority, a novel interpretation, to be sure.
Loading
Instead, she will strip him of his shadow portfolios — attorney general and child protection — where, despite all the controversy he's drawn for his Christian faith and membership of The Clan, he's actually done real, verifiable parliamentary work.
Goiran was confident about the prospect when interviewed by 6PR's Gary Adshead for his interview In the morning program on Tuesday, suggesting he understood he was being sacrificed to fulfill a political imperative that, in Mettam's words, a 'ground in the sand' must be drawn to see under the "clan" affair.
What was surprising was Goiran's claim that "the clan" – the loose group he ran with Mathias Corman and Peter Collier whose extensive texting history was so damagingly leaked – no longer exists.
"To claim that a group exists or has existed in recent years is categorically false. Some people know that, but it suits them to continue perpetuating that myth," he said.
"It's exaggerated considering that there are factions and factions in every single political party.
"Even so, it's natural that in politics there are factions that change over time, some people call them factions or there are other names for these things, so it's not a big surprise."
Apparently, Mettam called on Goiran and Collier to apologize for some of the more inflammatory comments in the text thread.
Collier – who called one female party member a "price slut" and another a "poisonous cow" – did so on Monday.
Goiran refused in a legal defense that pointed to the outcome of a party disciplinary case, arguing there was nothing wrong with calling rival faction figures "pork chops" or "lemon suckers" and that he had nothing to apologize for.
Loading
He denied controlling party branches, particularly south of the river.
"I'd give you zero," he told Adshead when asked how many were under his stewardship.
"Others would scoff at this suggestion and that is because again we are talking about a political narrative.
"As in any organization, if some people have a stronger network, have more capacity to articulate a position to persuade others, then people will vote accordingly.
"There's nothing crazy about that, it happens every day in Parliament … in every organization."
It's true, but it's also true that in politics, perception matters.
And Goiran finds himself perceived – and painted – as the uncompromisingly happy clapper who is out of step with modern sensibilities.
Not that that worries him, and not that it deters him from pursuing these arguments – and power – within the party.
This has always been the failure of its internal opponents and critics. He just plays the game better than her.
While the internal tussle has some ways to go, Mettam was shown on the evening news doing something Honey rarely did — interacting with real people in the suburbs rather than standing in the fern garden of Parliament House — and in a food bank, the pressure to follow the waist pack .
It's tedious for the leader of an opposition party, but the fact that it has hardly been implemented shows how much work Mettam and her colleagues still have to do.
Summer Sale! Subscribe to WAtoday at $1 per week for the first six months, uninterrupted access to news, culture and sport from our Perth team, as well as sister publications The Age and Sydney Morning Herald, and exclusive emails from our newsroom. Change or cancel at any time. Hurry! Sale ends February 12th.
https://www.smh.com.au/national/western-australia/wa-s-conservatives-have-a-long-way-to-go-even-after-leadership-turnover-20230131-p5cgyh.html?ref=rss&utm_medium=rss&utm_source=rss_national WA's Conservatives still have a long way to go, even after a change in leadership