Warren Buffett's bet on Occidental invests in a different future
By the end of 2020, the pandemic-driven slump in oil and gas prices was over and the price of oil began to rise until it peaked at nearly $130 a barrel earlier this year following the Russian invasion of Ukraine.
The rally turned Occidental into a cash machine, allowing it to reduce its debt to about $32 billion, return to paying dividends, and conduct some share buybacks. The stock price, which fell below $10 at its low point, surged towards $70.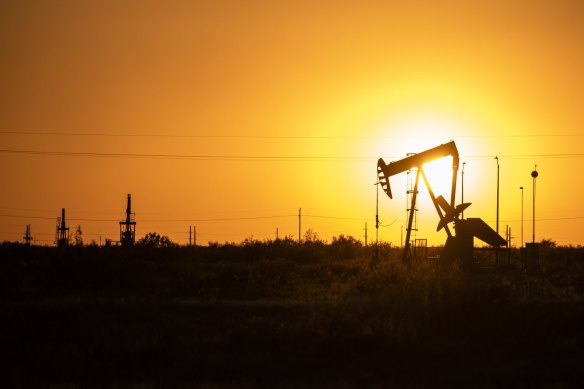 In March, Buffett began buying, initially acquiring 14 percent of Occidental in less than two weeks. He's kept going ever since, and now he's paid between $50 and $60 a share and accumulated more than 20 percent — as well as his preferred stock and warrants.
Buffett's preferred stock cannot be redeemed until 2029 unless Occidental has paid $4 per share on its common stock as a dividend or repurchase over a 12-month period.
With cash flowing through the group, that could happen this year if Buffett loses a very attractive retirement income stream in an environment of extremely low interest rates. He would also face a decision on whether to receive approximately $800 million in profit from the exercise of his warrants.
Instead of cashing out, Buffett has doubled down in a variation on his traditional approach to investing countercyclically, or "buying straw hats in the winter."
He has clearly contrasted the outlook for oil and gas prices despite the bleak and gloomy scenarios painted for the sector.
In this case, he is buying in line with the short-term cycle of rising oil prices and started when that cycle was already in full swing — classically, he should have been buying when the pandemic was sending oil and gas prices through the floor.
That suggests he doesn't think the rise in oil prices is cyclical, and he may well be right.
The Russian invasion of Ukraine has pushed up oil and gas prices – especially gas prices – and will have a lasting impact on the market. Regardless of whether Russia is able to sustain its oil production and sales while Western sanctions mount, the painful lesson Europe has learned about the risks of its over-reliance on Russian gas will live on.
In a market where gas supply is tight, with long lead times and rising costs for new production, the addition of Europe's massive energy needs to the demand side of the market will push international gas prices higher for the foreseeable future.
The global response to climate change should also support oil and gas prices. Gas should particularly benefit from this, as it can contribute to energy security even as the share of renewable energies in the power grids increases.
Loading
Investment in fossil fuel production has been constrained by both international commitments to reduce carbon emissions and the pandemic. The oil majors are reducing or redirecting their capital expenditures and the smaller companies like Occidental are more focused on generating cash than expanding production.
Occidental's (and its U.S. onshore oil and gas peers) relatively newfound discipline in prioritizing cash generation over yield-sapping investments in increasing production would appeal to Buffett.
Buffett also likes moat, and the oil and gas moat is being deepened by the greater urgency of the international response to climate change.
He has clearly contrasted the outlook for oil and gas prices despite the bleak and gloomy scenarios painted for the sector and is particularly bullish on Occidental, one of the largest producers in the highly productive Permian Basin, which includes Texas and Texas spans New Mexico.
Loading
Occidental has an ambitious plan to be at the forefront of the sector's response to pressure to reduce carbon emissions, with the goal of achieving net-zero emissions by 2050. The company has invested in Canadian company Carbon Engineering and is planning a carbon capture and storage plant in the Permian Basin as part of a vision to have 70 of these plants operational by 2035, and eventually up to 135.
There are many who are skeptical about the economics and effectiveness of carbon capture and storage technologies, but there is another aspect to Occidental's plans.
The recently passed Inflation Reduction Act in the US provides tax credits for carbon capture. Occidental could receive credits of up to $180 per tonne of carbon it captures and stores, changing the economics of the process.
Buffett may or may not use the potential to buy up to 50 percent of Occidental, which the Federal Energy Regulation Commission approved last week, and he may, some believe, seek to stake some of the dollar from Berkshire Hathaway or not $100 billion in cash reserves to acquire the entire company.
Loading
However, the jump into Occidental and Chevron signals that Buffett, the world's most revered value investor and a man of his own faith, sees value in a sector that others are increasingly shunning as pressure from governments, climate activists, and the increasingly powerful environment for the environment, social issues and governance are becoming increasingly important.
The Business Briefing newsletter delivers important stories, exclusive coverage and expert opinions. Sign up to receive it every weekday morning.
https://www.smh.com.au/business/markets/warren-buffett-sees-the-future-differently-and-is-betting-on-it-20220823-p5bbyg.html?ref=rss&utm_medium=rss&utm_source=rss_business Warren Buffett's bet on Occidental invests in a different future