Wanderers beat the shocking Sky Blues 4-0 in the derby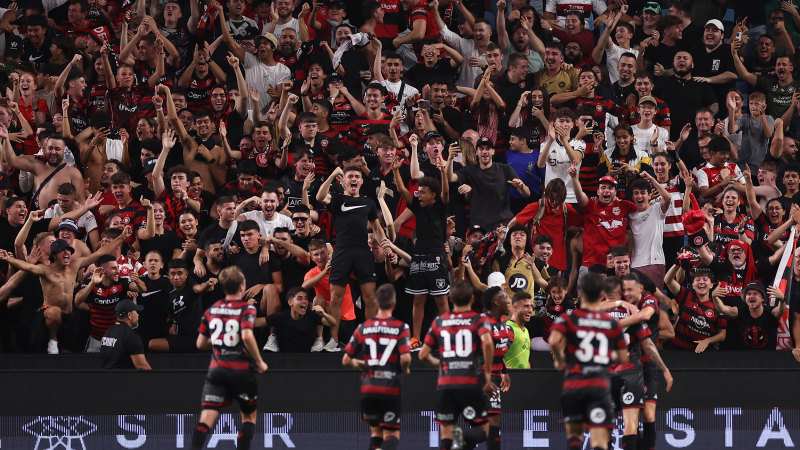 Borrello described Sydney's performance as "average" after a brave 1-0 win against Wanderers a month ago. This assessment would have been correct here. His glorious ball in the 13th minute took out Sydney's disjointed rear guard and put Layouni on target. In turn, he put Kusini Yengi, the decisive goalscorer in the last Allianz derby, into the empty goal.
Loading
Yengi spun away in celebration, stripping off his jersey and presenting his name and number in front of the cove, which rained down projectiles on him – mainly the two-tone blue handkerchiefs they waved during their tifo show.
Eight minutes later it was Ninkovic's turn to split them up and again it was far too easy. His slide rule pass found Layouni, who blocked Joel King's feeble challenge before slipping the ball past Andrew Redmayne.
West Sydney seemed happy to sit back from that point, content in the knowledge that they would not be troubled by what Sydney offered in attack. It was half an hour before the hosts got their first shot on target and it was more hopeful than anything from Joe Lolley in the tightest corner. A series of speculative crosses to nobody, unsurprisingly, yielded nothing.
With Max Burgess suspended and Spain left-back Diego Caballo ineffective on the wing, Sydney snorted but only hot air came out. To add insult to injury, James Donachie walked away with an apparent hamstring strain midway through the first half. His successor Jack Rodwell – the former Wanderer – added little to the structural integrity at the rear.
Nieuwenhof's goal was the most painful, and not just because Ninkovic provided the assist. The 22-year-old allowed himself far too much space from Paulo Retre – a midfielder whom Corica judged to be well ahead of him – and fired from the edge of the box into the top corner. The red-black block exploded in ecstasy and did so again as Layouni completed his clamp. For her, this was the stuff of dreams; a nightmare for Sydney in every way.
"Very disappointing, obviously. We knew how important the game was," Corica said. "If you look at the stats, they all look positive. But in the last third they were just better than us."
Watch every game of the UEFA Champions League, UEFA Europa League And UEFA Europa Conference League on Stan Sports.
https://www.smh.com.au/sport/soccer/wanderers-lay-siege-to-shocking-sky-blues-in-4-0-derby-demolition-20230318-p5ct8o.html?ref=rss&utm_medium=rss&utm_source=rss_sport Wanderers beat the shocking Sky Blues 4-0 in the derby