Wall Street hit by weak earnings
The Australian stock market opened solidly lower but pared losses by midday. The S&P/ASX 200 was down 0.1 percent as of 12:30 p.m. AEST.
The technology sector is down 3.2 percent and utilities are up 1 percent during the session. Afterpay Owner Block shares are down 5.5 percent. The big four banks are all up except for the Commonwealth Bank, which fell 0.7 percent after the release of its full-year results.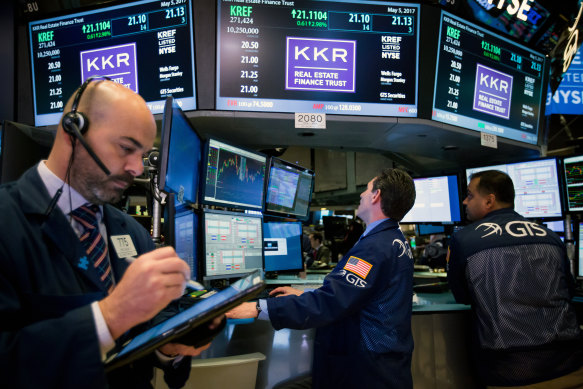 A2 Milk is one of the biggest losers in the market on Wednesday. The company's shares fell 8.6 percent after the FDA delayed its decision to allow a2 to export baby formula to the United States.
Wall Street stocks extended their recent losing streak overnight as investors reviewed disappointing earnings reports and gazed at the release of a snapshot of inflation closely watched by the Federal Reserve.
The S&P 500 fell 0.4 percent, marking its fourth straight decline. The Dow Jones Industrial Average fell 0.2 percent and the Nasdaq fell 1.2 percent. Smaller company stocks also fell, sending the Russell 2000 Index down 1.5 percent.
Loading
Technology companies and retailers were the top detractors from the US market, outweighing gains in energy, financials and others. Bond yields rose across the board.
After a surprisingly sharp gain of 9.1 percent in July, the benchmark S&P 500 index has largely sold off this month as Wall Street assesses how aggressively the Federal Reserve will continue to raise interest rates to fight inflation and what that means will affect the economy and corporate profits.
The US Department of Labor is due to release its July consumer price report on Wednesday, followed by its producer price report on Thursday. Investors and economists will be looking for signs that the Federal Reserve's aggressive rate hikes in recent months have helped contain inflation.
https://www.smh.com.au/business/markets/asx-set-to-fall-as-weak-earnings-weigh-down-wall-street-20220810-p5b8l8.html?ref=rss&utm_medium=rss&utm_source=rss_business Wall Street hit by weak earnings