Wall Street hit by recession fears
Shares fell in Thursday afternoon Wall Street trading as concerns mounted that the US was headed for a painful recession.
The S&P 500 is down 0.9 percent in early afternoon trading, while the Dow Jones is down 0.6 percent and the Nasdaq is down 1.1 percent. Australia's stock market is expected to open lower, with futures pointing at 4.57am AEDT down 22 points, or 0.3 percent on the open. The ASX gained 0.6 percent on Thursday.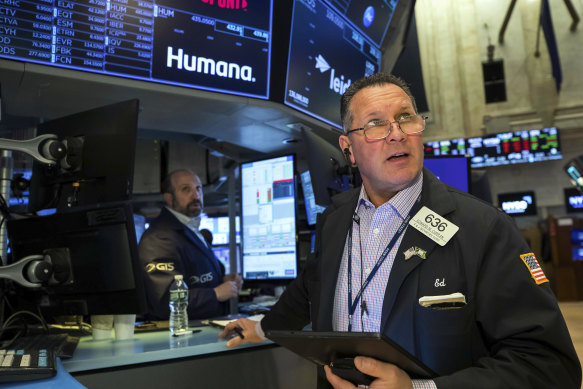 Every major index is on course for a weekly loss after the market started the year with a two-week rally. Bond yields have remained stable but have generally fallen since the beginning of the year. Analysts expect the broader market to remain volatile as investors seek to get a clearer picture of inflation and the economy's future path.
"It very much reflects investors' conflicting views of where things are headed here in early 2023," said Greg Bassuk, CEO of AXS Investments.
Reports showed weakness in several areas of the economy, including housing and manufacturing in the mid-Atlantic region, although not quite as bad as expected and the job market appears to remain healthy. They follow worse-than-expected readings a day earlier for retail sales, a cornerstone of the economy, and industrial production.
The latest economic data paints a picture of an economy slowing under the weight of last year's blizzard of rate hikes by the Federal Reserve. The central bank has been aggressively raising interest rates in a deliberate attempt to slow the economy and curb inflation. The strategy risks hitting economic growth too hard and causing a recession.
Several major banks are forecasting at least a mild recession this year as the effects of the Fed's rate hikes reverberate through the economy. Inflation has cooled, but the prices of many items are still stubbornly high, weighing on consumers.
The central bank has raised its main overnight interest rate to a range of 4.25 percent to 4.50 percent from around zero a year ago. The Fed will announce its next interest rate decision on February 1st. Investors are essentially forecasting just a 0.25 percentage point hike next month, down from December's half-point hike and up from four previous 0.75 percentage point hikes.
The Fed has maintained that it will not relax its fight against inflation until it is certain prices are cooling. It has also been closely monitoring several areas of the economy, including the labor market, to get a better sense of whether inflation is slowing. The latest weekly unemployment data shows that employment remains strong, which is good for workers but complicating the Fed's fight against inflation.
https://www.smh.com.au/business/markets/asx-set-to-fall-as-recession-fears-weigh-on-wall-street-20230120-p5ce4a.html?ref=rss&utm_medium=rss&utm_source=rss_business Wall Street hit by recession fears