Virus still ahead of attempts to contain it
The arrival of the new and different-looking Omicron variant of COVID-19 just over a year ago raised high hopes that it would herald the end of the pandemic.
This hope was based on two assumptions: that Omicron resulted in a milder disease than previous variants, and that its exceptional ability to spread rapidly would mean that the wider population would quickly be exposed to this "milder" virus and further boost immunity. the 95 per percent of Australian adults have already had two doses of the vaccine.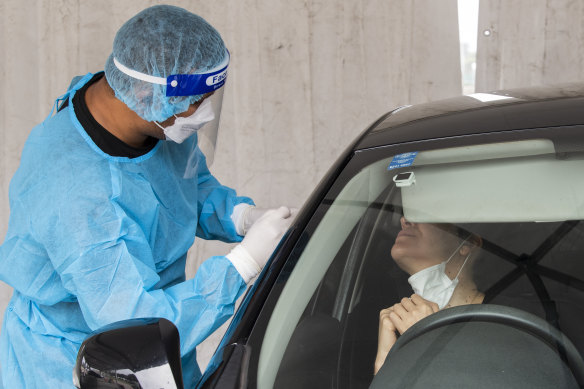 And so the "hybrid immunity" strategy was born. The idea was that we could relax public health measures that were perceived to be so confining in society and let widespread infections do most of the work. Then-Prime Minister Scott Morrison encouraged us to "get through" the first Omicron wave, and Queensland's Chief Health Officer went so far as to say it was probably "necessary" for us to catch it. What followed was by far the worst public health disaster in Australia since World War II.
However, there are no flags at half-mast for the roughly 15,000 deaths in 2022 (compared to just over 2,000 in the previous two years), no national day of mourning, little understanding of the deep daily impact COVID-19 has had on millions of "more vulnerable" Australians, little concern about what the chronic COVID-19 disease could and is doing to the wider population.
Since the election, Prime Minister Anthony Albanese and his advisers have simply said COVID-19 is no longer an exception and should be treated like other respiratory infections. But a conservative estimate says 500,000 Australians will suffer from long-term COVID, for which there is no specific treatment. An uncertain but clearly large burden of chronic disease will cause severe disruption in hospital and health care, impacting the workforce and school attendance. The gulf between the COVID reality and the narrative of our leaders could hardly be wider.
The current wave is almost as severe as any of the other three waves we faced last year, with more than 100,000 reported cases per week. While case numbers mean a lot less now that testing and reporting have dropped so much, hospitalization rates remain a reasonably reliable guide to the extent of the problem. Nearly 4000 people are hospitalized with COVID-19, near the peak of 5500 in the July-August wave. Emergency rooms across the country are under pressure.
Why the disconnect between the COVID reality and the message Australians are getting from our leaders?
Almost every Australian has been infected, many two or three times, and more than 17,000 people have died from the pandemic. This number grows when so-called "excess deaths" are calculated – deaths that were higher than expected on average in the years leading up to the pandemic. These are people who would otherwise have lived. In the blink of an eye, COVID has become one of the nation's biggest killers, and because it's "extra," life expectancy will begin to fall, something that hasn't happened in more than five decades.
In 2023 there may not be a grace period. The uncontrolled spread of the virus among China's 1.4 billion people, with their poor vaccination rates and low natural immunity, creates the perfect setting for the emergence of new variants of unknown severity. Their arrival in Australia will be slowed by the government's new testing measures for travelers from China, but they will make it to Australia.
https://www.smh.com.au/national/15-000-dead-100-000-cases-why-is-covid-still-winning-20221228-p5c95j.html?ref=rss&utm_medium=rss&utm_source=rss_national Virus still ahead of attempts to contain it