Usman Khawaja defies years of doubts
"It's just nice to go out there and tick off a hundred in India, which was something if you asked me five years ago if you'd told me that I would have thought you were crazy. There were many emotions. I just never expected that to happen."
With every run Khawaja carves in these climes, those who were around him on the Australian side from 2011 to 2017 will get a break. Similarly, those who felt he was redundant from 2019 to 2022 can also reflect.
"Every time I came out to spin, people would say, 'You can't spin.' I probably started believing that myself," Khawaja said.
"I didn't really get the support from the people around me back then.
"I didn't feel like the team really supported me, I didn't feel like the coaching staff and the selectors really supported me on this journey. It just made it so difficult. Whether it was me or not, yes I'm a better spin player now, no doubt about that, I've got more shots, better defense.
"But I didn't really have the opportunity to learn anything at that early stage. Luckily I'm pretty stubborn so I did whatever it took to learn and then we had a couple of A's here in India which helped a lot. I had to go back and find out all by myself."
Over the past year Khawaja has ousted hundreds in his native country, counting on a treacherous pitch in Galle and then overcoming the opposing challenges of three sneaky spins in Nagpur, Delhi and Indore, followed by a much more pleasant Ahmedabad.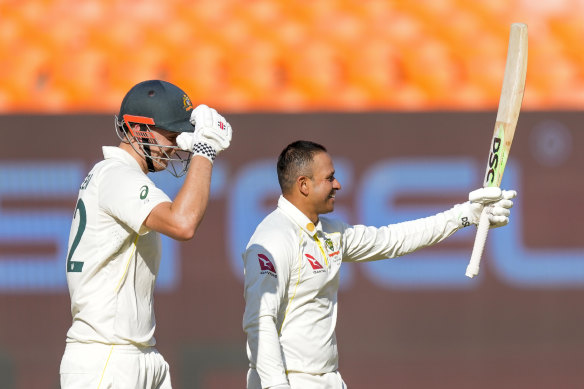 "I haven't really had many chances on the subcontinent, but I've played a lot on the subcontinent in the last year and a half," he said.
"A lot of people talked about how shallow the wickets were in Pakistan and obviously I scored a lot of runs there. I was the only person to score a hundred points there.
"Went to Galle with an absolute bunsen in the first game [turner] and felt I had done well there. I felt like I was contributing all the time and that was the most rewarding thing because I contributed to some wins. When you get runs on a losing team, nobody remembers it and it just doesn't feel like it.
"I've got 100 now on top of some of the runs I got on the subcontinent and I've been told my whole life I couldn't play on the subcontinent. I feel like that monkey fell off me when I scored those hundreds in Dubai, that was Dubai, but I wanted to do it in the subcontinent, so [it's] very special."
As for the craziness of being pushed to the nets to warm up while Modi and Australian Prime Minister Anthony Albanese drove around the stadium in a trolley, Khawaja joked that it actually suited his dislike of such drills.
"Best warm up ever," he laughed. "I did a couple of runs, stretched, talked to Virat and then went out and paddled up. I don't think you can get much better. For me I was happy, I think some of the other guys are a bit more structured.
"I think Alex Carey likes to make catches in the middle and some of the other guys like to do stuff on the field so maybe that would have thrown them off a bit. But luckily, Smithy won and batted the pitch, so the batsmen were okay with that.
https://www.smh.com.au/sport/cricket/i-d-think-you-were-crazy-khawaja-defies-years-of-doubt-20230309-p5cqug.html?ref=rss&utm_medium=rss&utm_source=rss_sport Usman Khawaja defies years of doubts