Union leaders are pressuring Anthony Albanese to push for inflation-matched wages
Loading
"If we end up in the world… where people tie wage increases one-to-one with inflation, inflation will continue. And it's getting harder. But that's not happening right now," Lowe said.
Australian Council of Trade Unions chairwoman Sally McManus said the council had not yet formulated its position on this year's minimum wage decision, citing the uncertain path of inflation.
"We expect the government to support a reasonable minimum wage increase and that it is imperative for them to consider maintaining real wages," McManus said.
She said the movement doesn't accept that a one-time wage increase for the bottom earners would hurt the economy, "but we have to be careful, you know, where do we put that?"
"We know things are at a delicate juncture in terms of economic development, so we will be very aware of that," she said.
Diamond said RTBU supports an increase in the minimum wage in line with the CPI, "and we would encourage the federal government to make an application to the Fair Works Commission to that end."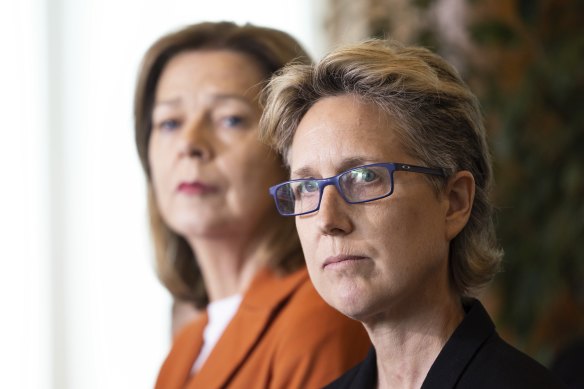 Jacqueline King, leader of the Queensland Council of Unions, said she also expects the government to support an increase in line with inflation, adding that when deciding on the new minimum wage, Fair Work is now taking gender equality and gender equality into account Job security must be taken into account as objects of the Workplace Act.
Andrew McKellar, ACCI chief executive, said a wage increase in line with inflation would be "entirely illusory".
Loading
"We have to get inflation under control, we cannot fan the fire. Inflation needs to be brought back to realistic levels in line with the target range, back to 2-3 percent, and we need to get productivity going," he said.
Labor Relations Secretary Tony Burke recently said the government's position on the annual pay review would be decided by Cabinet.
"Part of us that goes through due process is that we make a collegial decision. Obviously nobody ever wants anyone's wages to go down," he said.
Break through the noise of federal politics with news, perspective and expert analysis from Jacqueline Maley. Subscribers can sign up for our weekly Inside Politics newsletter here.
https://www.smh.com.au/politics/federal/union-heads-pressure-albanese-to-push-again-for-wages-to-match-inflation-20230215-p5ckm9.html?ref=rss&utm_medium=rss&utm_source=rss_politics_federal Union leaders are pressuring Anthony Albanese to push for inflation-matched wages