'Unfathomable' shooting of lawyer heightens gang war escalation fears
Former Supreme Court judge and barrister Greg James, who has worked with Abbas, said the shooting was "awful and tragic".
"We are horrified that someone could be shot outside his own home in these circumstances," James said.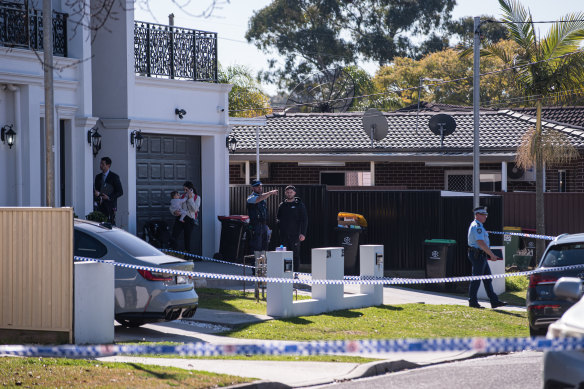 "There's been far too much of it going on, and it must be put to a stop."
James said he could only hope for Abbas, and his wife and family. He added there was no sign any aspect of Abbas' personal, or professional life, could be linked to the shooting.
Detectives have not established a motive or any connections to other recent shootings that have plagued Sydney, Bankstown Police Commander Adam Johnson said on Wednesday.
The criminal law community was shocked at the news of Abbas' shooting, referring to him as a considered, quiet family man who maintained boundaries between his personal life and the criminal elements that come with the job.
"It's absolutely unfathomable. [Abbas] is one of those guys who keeps to himself," one colleague, speaking anonymously for fear of their safety, told the Herald.

Another lawyer, who also spoke on condition of anonymity due to safety reasons, said the shooting was a reminder of how dangerous the line of work can be and sets a worrying precedent.
"You have to remember to meet with people in public and to keep a distance between yourself and your client," they said.
A spokesman for the Law Society of NSW condemned "any attack targeted at officers of the court" adding it was "deeply concerned" by the development.
Abbas acted as the lawyer for four men charged over the alleged kidnapping of a Hamze associate in Manly earlier this year, and has represented former Auburn deputy mayor Salim Mehajer when he faced assault charges, and ex-NRL player Jamil Hopoate for drug charges.
The Herald is not suggesting that those matters are related to Wednesday's shooting.
Last year underworld figure, Mahmoud "Brownie" Ahmad was shot dead on Narelle Crescent in an unrelated attack.
Ahmad was killed when shots were fired from a passing car in April 2022 following warnings a price had been placed on his head. His older brother had already been killed in a gangland hit.
Loading
Ahmad's shooting set off a series of tit-for-tat killings in Sydney's underworld that claimed the lives of Ahmad's nephew Rami Iskander and Omar Zahed in separate attacks.
Wednesday's shooting is also the most serious attack on a lawyer since the unrelated murder of Ho Ledinh at Bankstown Plaza in January 2018.
Ledinh was shot dead at a café by a bumbling hitman and getaway driver, both are now serving decades in prison. The killers' motives were never pinned down – only that they were acting on behalf of underworld figures who knew Ledinh, 65, through his work.
Wednesday's shooting at Greenacre was not the first in the suburb this week, with three people shot in their cars on Sunday morning.
A 25-year-old man was found with head wounds in one vehicle, and a 22-year-old man and 19-year-old woman were injured by a stray bullet in another.
There is no suggestion any of the other shootings are linked to the attack on Abbas.
The Morning Edition newsletter is our guide to the day's most important and interesting stories, analysis and insights. Sign up here.