Underarm tactics, maybe, but England's hypocrisy leaves us stumped
Is the recent uproar at Lord's an example of post-truth boorishness ("Stokes pushes Australia to the brink: Visitors overcome MCC members, go up 2-0 after Lord's Test", June 3)? The "I never did it", "it's not my fault" or "I wouldn't do it" mentality is often seen in politics, particularly relating to Trumpism and now seems to have crept into the well-heeled privileged MCC members and some of the players. Troubling as it is now prevalent in so many aspects of society. Art Gracie, Balmain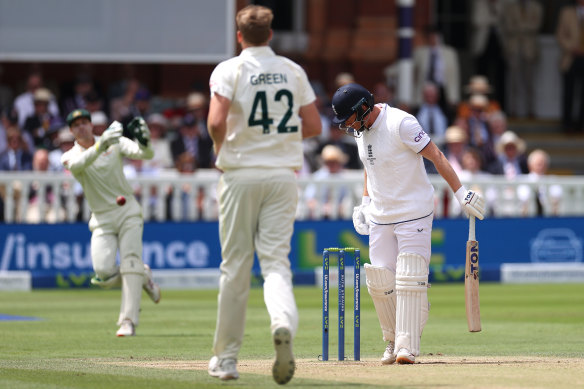 Let's call it for what it is, pure hypocrisy. First, ball tampering. England were the experts at changing the condition of the ball and yet got minimal punishment for their subterfuge. Alex Carey stumping Jonny Bairstow; get all the clippings of Brendon McCullum and Bairstow as keepers doing the same thing. Then we get to the sanctimonious press conference where both Ben Stokes and McCullum state the "spirit" of the game was broken. Really? Andrew Moody, Forster
Twelve months ago in the first Test against England at Lord's, New Zealand batsman Colin de Grandhomme was dismissed in a similar fashion to Bairstow. However, far from being admonished, Ollie Pope who threw down the wicket from slip as the batsman wandered out of his crease, was lauded for his quick thinking and accurate throw. The English captain, Stokes, did not recall the batsman as he trudged off. Bernie Bourke, Ourimbah
Carey's dismissal of Bairstow, the best underarm since that of Trevor Chappell. Tony Denzel, Bonny Hills
In the case of the Bairstow wicket, the ball was not declared dead by the umpires, it was still in play. The batsman would have been entitled to scurry through for an overrun bye if the Aussie keeper had missed. As a former wicketkeeper, I stumped batsmen in similar fashion on a number of occasions in the past when the batsman was distracted when yards out of his crease after missing a ball from a quickish bowler.
As far as the dope and his cronies in the Long Room who had a go at Usman Khawaja and his teammates, they should be lambasted by the MCC in the strongest possible terms. Ken Dixon, Woy Woy
Stokes and McCullum fail to acknowledge that fundamental to the spirit of the game is the principle that "the man in white is always right". It is they, whose comments have now ignited much English angst and rancour that will continue throughout this series, who need to earnestly ponder the damage they have caused to the spirit of the game. Rob Reitano, Lane Cove West
The English players and spectators must accept that Test cricket lasts for five long days with a myriad of opportunities to win and lose ground. Dropped catches are a good example. The assertion that Carey's stumping was just not cricket conflicts with the aggressive "play to win" approach established by the Pommies from the outset. Lorraine Hickey, Green Point
It's the damned hide of certain whingeing Poms in the MCC to complain about a run-out which was technically correct but not about an overruled catch which was equally correct. But Australia has had the last laugh, twice over. We won the match, and our King was delighted about it. Wasn't he?
Grant Agnew, Coopers Plain
Defence of Berejiklian part of a dubious trend
What does it say about Peter Dutton, Joe Hockey and Matt Kean that they say they can attest Gladys Berejiklian was not corrupt even though ICAC confirms her corruption ("Disturbing defence of Berejiklian", July 3)? There has been a trend over the last few years for Coalition politicians in particular to swear in the cold light of day that black is white. Why can't Dutton and the others simply admit that while they liked and admired Berejiklian, sadly, she at times acted corruptly. Facts are facts. Let's stamp out local Trumpism, Borisism and moral revisionism before it becomes endemic. Peter Campbell, Potts Point
There is a well-worn cliche: "It is lonely at the top." Support for the job is one thing and we can be sure that as premier, Berejiklian would have had unqualified and dedicated support from her staff; however, there is another level of need for affection and reassurance at an intimate and personal level particularly when operating in a highly charged political environment. Vulnerable, she succumbed to blandishments of flattery and affection from an opportunist and a manipulator. We were all scammed. Rosemary McDonald, Beecroft
Simon Longstaff is not alone in his view that "nothing can or should diminish the good done by Gladys Berejiklian" but whatever good things she did would surely be offset by her failures ("How virus of corruption infects the body politic", June 3). NSW residents have River Class ferries that cannot fit under bridges on the Parramatta River, Manly ferries that cannot handle the swell and three different and incompatible metro systems. It has been reported today that the upgrade to Redfern station is three years late and $66 million over budget. As well as her ethical judgment, Berejiklian's government's competency was certainly questionable. Peter Nash, Fairlight
There's no point having an anti-corruption watchdog if politicians are going to trash its findings. The failure of state and federal leaders of the major parties to condemn Berejiklian's corrupt behaviour is itself contemptible and a betrayal of trust. MPs who deem her conduct acceptable have no place in parliament. It looks like there'll be many more independent MPs in the future. Graham Lum, North Rocks
In Chris Minns' refusal to condemn Berejiklian, I see a positive of not using such an occasion to draw political mileage by blaming the opposition party for harbouring a culture of corruption or blame his predecessors for everything that is wrong. Don't we ask for such an approach of our politicians when they engage in aggressive adversarial sparring? Manbir Singh Kohli, Pemulwuy
Restore real wages
Twelve years of conservative government saw the real wages and working conditions of public sector workers go backwards ("Minns to end wage ceiling in weeks", July 3). The sticking point for a new "framework to replace the wages cap" will be funding pay rises through "productivity improvements". This was the language used in wage negotiations well before the arrival of the Coalition government. Any public-sector frontline worker would be sceptical knowing how much has been stripped out of the public sector's resources over the last decade. Productivity improvement was equated with wage suppression so savings could be spent on high-profile projects such as stadium rebuilds. The new government led by Chris Minns has the task before it of rebuilding and resourcing a seriously damaged public sector to better serve NSW. Restoration of lost real wages to public sector workers will be an important component in any new industrial relations framework. Glenn Johnson, Leura
Sewer solution
The state government should work with the Inner West Council to humanise the section of Victoria Road through Rozelle to Iron Cove ("Rare chance to fix 'traffic sewer'", July 3). In doing so, it should not toll the new bit of motorway between the Anzac and Iron Cove bridges, as many motorists will choose to use the traffic-reduced Victoria Road to avoid the toll. If the Coalition had continued with the original route for the Western Harbour Tunnel, instead of just starting a tunnel to Cammeray, we would now be completing a tunnel under Victoria Road to the Gladesville Bridge and another under Lane Cove to the M2 at North Ryde and Artarmon. "Traffic sewers" through Drummoyne, Lane Cove, North Sydney and along Willoughby Rd could be eliminated. The new Labor government should go back to this original plan developed by previous Labor governments. Peter Egan, Mosman
Brain drain
We know the Morrison government in 2021 increased fees by 113 per cent for most arts degrees ("History, English majors written off", July 3). That policy denied many students from pursuing a degree and career they desired. It also cost some academics their jobs or reduced their pay. We know arts subjects provide enhanced skills in analytical thinking, communication and writing, research and synthesis; all essential for good policy development, implementation and evaluation. They also transfer to many other essential occupations, including politics. Would the Albanese government please rectify this appalling state of affairs, which reflects so badly on Australia and its future? Jennifer Fergus, Croydon
Burnt out
Fossil fuels "are likely to face the sharpest decline of Australia's resource exports" ("Coal and gas revenue set to fall", July 3). After a boom due to the tightening of supply with the war in Ukraine, leading to windfall profits for the sector, our coal and gas exporters now face rapid decline in demand. Yet still they persist in pushing for new coal and gas ventures which will eventually become massive stranded assets. The writing is on the wall for coal and gas. Renewables are taking over and the world can no longer afford a carbon-based economy. Neil Ormerod, Kingsgrove
Voice deserves better
"There is no legal requirement for the (referendum) pamphlet to be truthful or accurate" ("Hanson a maybe for No case cause", July 3). Taxpayer money is allowed to be spent on printing lies? Who would defend this position? Surely, as we all suffer from the age of misinformation from social media, there must be a legal obligation for truth from any document which is paid for using our taxes. Celia Conolly, Maroubra
That Lidia Thorpe, like Jacinta Nampijinpa Price, would like to get under the covers with people like Peter Dutton and Pauline Hanson leaves me scratching my head. The majority forum of Indigenous people who came together all those years ago at Uluru to create the proposal might be feeling that pain in their hearts. Meanwhile, Price persists with Dutton's line about Labor's Voice. What the rest of us are talking about is the Voice of our First People. Charmain Brinks, Newcastle
I recall the last mailout Pauline Hanson got involved in ended with stubby holders to a non-drinking minority group in public housing during the Melbourne lockdown. With such nuanced and sensitive messaging under the belt, I cannot wait for the warmth and lure of the latest campaign to make sure we all remain equal and safe. David Gunter, Potts Point
Dignity first
I'm happy to pay for my own care ("Boomers should pay more: care providers", July 3) but I would also like the opportunity to control my end-of-life journey. That means I want access to voluntary euthanasia mechanisms to end my life when I've had enough, rather than being forced to continue on in a nursing home. At least give us some alternative options. Amanda Kenyon, Lennox Head
If a person is fortunate enough to survive into old age and can no longer work, who are we to judge how they have lived their lives and organised their finances? I could relay a litany of obstacles and problems with being born a female in the 1950s, but also many of its advantages, such as powerful unions and some excellent politicians. Young people must make the best of their current circumstances, as they have always had to do. Lyndall Nelson, Goulburn
To all those complaining about all the good things we Boomers got, writing letters to the Herald won't help much. Instead, do all the things we did; join unions who will fight for better working conditions and join political parties so you can elect governments which will give you what you think is best for you. Mark Anderson, Coogee
The most significant cost of moving into aged care is the deposit. While this sum may eventually be fully or partially refunded, it is still a large amount to have to stump up in the first place, meaning that the wealthier you are and the more money you have access to, the better quality of facility you will likely be able to enter. If you can't afford such a deposit, then God help you.
Shaun Davies, St Peters
Salivation army
How many unscrupulous property developers are already salivating over the NSW government's steadfast push to significantly densify large parts of Sydney's suburbs ("Buyer furious after developer collapse", July 3)? Sue Dyer, Downer (ACT)
Fluid fluency
As a perennial student of French, I would be happy to be judged in an oral exam after a glass or two of a decent drop (Letters, July 3). Judith Fleming, Sawtell
"Who knows, it may even help with mental health issues." Quite right, Jenny Greenwood. Our neighbour's daughter's observation on their secondary school: "When actual work was required, be it five minutes or two hours, everyone would shut up, switch off their f——devices and you could just get on with it. Pencil and paper, text, poetry, equations, diagrams, scribble and doodles in peace and quiet. Or just sit at your desk and vague off out the window. Sheer luxury!" Ronald Elliott, Sandringham (Vic.)
Lollies means jollies
Dear Ann Eskens of Crows Nest (Letters, July 3), I am still working on the placebo name. In the meantime, I scoffed a whole packet of jellybeans and that cheered me up enormously, especially the black ones. Peter Thornton, Killara
The digital view
Online comment from one of the stories that attracted the most reader feedback yesterday on smh.com.au
When the Lord's Long Room turned feral on Australia
From jager: "It's often said it's not how you win that shows character but how you react to a loss."
To submit a letter to The Sydney Morning Herald, email letters@smh.com.au. Click here for tips on how to submit letters.
The Opinion newsletter is a weekly wrap of views that will challenge, champion and inform. Sign up here.