Ukraine repels waves of Russian attacks on Bakhmut
At an evacuation center in nearby Kramatorsk, Olha, 60, said she fled Soledar after moving from apartment to apartment as each was destroyed in tank battles.
"For the past week we haven't been able to get outside. Everyone was running around, soldiers with automatic weapons, screaming," said Olha, who only gave her first name.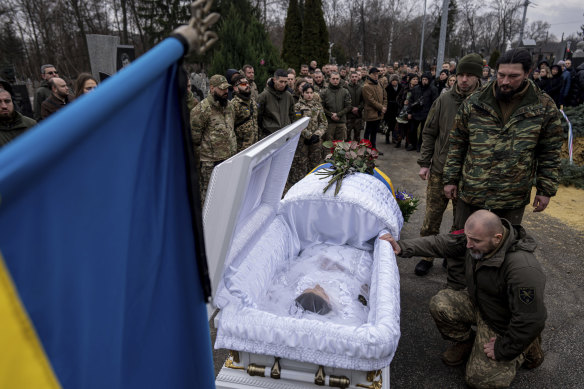 "There isn't a single house left intact," she said. "Apartments burned and collapsed in half."
Pro-Russian bloggers quoted Prigozhin as saying his troops were fighting over the administration building in Soledar.
The Ukrainian military said reinforcements had been sent to Soledar and that everything was being done to repel the enemy.
"There is brutal and bloody fighting there – 106 shells in one day," Serhiy Cherevatyi, a spokesman for the military in the east, told Ukrainian television.
Andriy Yermak, head of Ukraine's presidential staff, said Moscow suffered huge casualties to try to justify its mobilization of reservists but was unsuccessful. "The performance of our soldiers is titanic," he wrote on Telegram.
Reuters was unable to independently verify the battlefield reports.
Further north in the Kharkiv region, a Russian missile attack on a marketplace in the village of Shevchenkove killed two women and wounded four others, including a 10-year-old girl, regional prosecutors said.
Seriously injured lay on the ground and rescue workers searched piles of rubble, fallen and burning stands and a large crater, as video footage from the police and the Ukrainian Presidential Office showed. A police officer carried a girl with blood on her face from the scene.
Yermak said the perpetrators were "ordinary terrorists". Russia did not immediately comment on the reports from the village, which Kyiv recaptured from Moscow in September.
Zelenskyy again condemned what he called Russia's failure to honor a ceasefire it declared for the Russian Orthodox Christmas celebrations on Friday and Saturday.
Ukraine never agreed to the ceasefire, which it described as a Russian pretext for troop reinforcements. Both sides accused the other of continuing hostilities throughout the period.
Loading
"The Russians fired incendiary ammunition on Kherson immediately after Christmas," he said, referring to the southern city that was deserted by Russian forces in November. Airstrikes also hit Kramatorsk and other cities in the east, he said.
On Sunday, Russia announced that 600 Ukrainian soldiers had been killed in a rocket attack on Kramatorsk. However, a Reuters reporter found no visible signs of casualties at the scene of the attack, which was billed by Moscow as revenge for the New Year's deaths of scores of Russian troops.
As Moscow's invasion of Ukraine nears the one-year mark, Russia's military faces domestic pressures to achieve battlefield success.
Hawkish voices are calling for an escalation of the war effort following the loss of captured territory and high death and casualty rates.
The Kremlin stood by the Russian Defense Ministry's claim that hundreds of Ukrainian soldiers were killed in the Kramatorsk attack, but some pro-Kremlin military bloggers said Moscow is harming its own cause with unreliable propaganda.
Loading
"Let's talk 'cheating,'" wrote Military Informant, a Russian pro-war pro, on messaging app Telegram, which has more than half a million subscribers. "It is not clear to us who and for what reason decided that 600 Ukrainian soldiers died inside at once when the building was not actually hit (even the lights stayed on)."
Iranian drones
The Biden administration said Monday that Iran's sale of deadly drones to Russia for use in its ongoing invasion of Ukraine means the country could "contribute to widespread war crimes."
National Security Advisor Jake Sullivan leveled the charge against Iran Monday while speaking to reporters accompanying President Joe Biden on a trip to Mexico.
It comes as US and European partners seek to further ostracize both nations in the court of public opinion as they face the challenge of physically halting the arms transfers on which Russia is increasingly reliant.
Sullivan said Iran has "chosen to embark on a path where its weapons are used to kill civilians in Ukraine and attempt to plunge cities into cold and darkness, which in our view, disposes of Iran." places where he could possibly be a contributor to widespread war crimes."
Sullivan cited European and US sanctions against Iran, imposed after the US exposed Iran's arms sales to Russia last year, as examples of how it is trying to "complicate those transactions." However, he acknowledged that "the way they actually perform them physically makes the physical interdiction a challenge."
https://www.smh.com.au/world/europe/brutal-and-bloody-battles-ukraine-fighting-off-waves-of-russian-attacks-at-bakhmut-20230110-p5cbfe.html?ref=rss&utm_medium=rss&utm_source=rss_world Ukraine repels waves of Russian attacks on Bakhmut