Two men have been charged after 120kg of cocaine was found in a Sydney shipping container
Two men have been charged after police seized 120 kilograms of cocaine allegedly stored in the walls of a shipping container in Port Botany in Sydney's eastern suburbs.
Police believe the two men traveled from Athens to Greece to work for local criminal accomplices to get the drugs, which were worth an estimated $60 million on the street.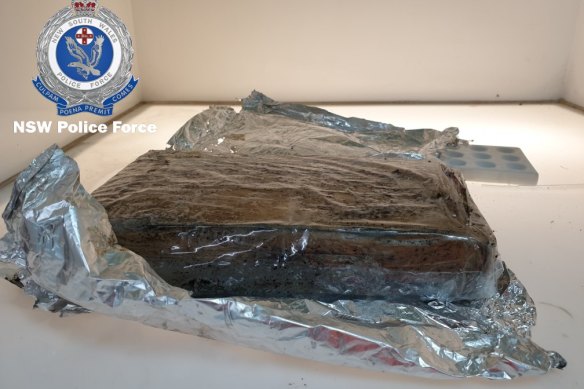 Officials said they arrested one of the 27 men after reports of a burglary at a shipping company in the port were reported around 11pm on Thursday. Another man reportedly fled the area before police arrived.
Australian Border Police officers discovered the cocaine packed in one-kilogram "bricks" in the walls of the shipping container.
New South Wales Police are investigating the movement of Strike Force Biles, which they set up this month to investigate the alleged importation and shipment of large commercial quantities of illegal drugs using the 'rip-on, rip-off' method investigating the use of legitimate shipping containers for transporting substances.
Around 9pm on Friday night, Drug Squad officers searched three homes in Balmain and Leichhardt in Sydney's inner west and confiscated crowbars, breaking tools, gloves, bags and other items.
They arrested a second man, aged 19, in a unit on Parramatta Road, Leichhardt. He was charged with intent to commit a criminal offense in relation to a large commercial shipment of illicit drugs and attempting to possess a commercial quantity of a cross-border drug.
The 27-year-old was accused of entering fenced-in property, assault, assault with actual bodily harm and intentional damage to property.