TV legend Gary Fenton dies
His last time as a guest of the International Olympic Committee (IOC) was the 2014 Winter Olympics in Sochi, Russia. In between, from 1996 to 2000, he was Chief Operating Officer of the Sydney Olympic Broadcasting Organization (SOBO) and executive producer of the global television show that went from Homebush to the rest of the world, producing more than 3400 hours of Olympic Games coverage.
For this, Fenton was presented with the coveted Golden Rings Award by the then IOC President Juan Antonio Samaranch. John Coates, Vice-President of the IOC, said: "While Gary was a pioneer in the development of Australian sports broadcasting in the 1980s and 1990s, we in the Olympic Movement will always remember him at SOBO."
"He worked with all the international broadcasters to ensure their combined coverage of the Sydney 2000 Olympic Games helped to proclaim that Games as the best ever. Internationally, Gary was considered our best."
A Melburnian, however, Fenton never gave up his passion for Aussie Rules and barracked first for North Melbourne, then for the Swans when his career took the family to Sydney in 1996. He and Marie de Souza wed on November 22 in Melbourne's Conwwarr Weir. 1975
His oldest friend, Brian Ward, who spent time with Fenton in palliative care for the last five weeks of his life, says they recognized each other through previous athletic meetings (when Fenton was a sprinter), but their lifelong friendship ended in January 1967 first night of training of the season at Sandringham Football Club.
"We were 15. Gary was a very good footballer – a wingman with great pace, great courage and great passing ability."
"He should be commended as the driving force behind global television coverage of our country's Olympic Games in Sydney 2000."

Bruce McAvaney on TV legend Gary Fenton behind the scenes
Veteran Seven broadcaster Bruce McAvaney credited Fenton with "having had a profound impact and impact on a legion of people in the television industry, and I'm one of them.
"He has reshaped the way the IOC negotiates media rights and he should be commended as the driving force behind global television coverage of our country's Sydney 2000 Olympic Games.
"He was a brilliant negotiator who could both strike instinctively and play long range. He had a knack for giving raw, often unknown, talent a chance. An isolated case."
Jeffrey Browne, who became Nine's CEO after Fenton joined Nine in 2006, was the last person to see his friend alive. One of Fenton's favorite photos outside of the family was of him at the Sydney 2000 Olympic torch relay.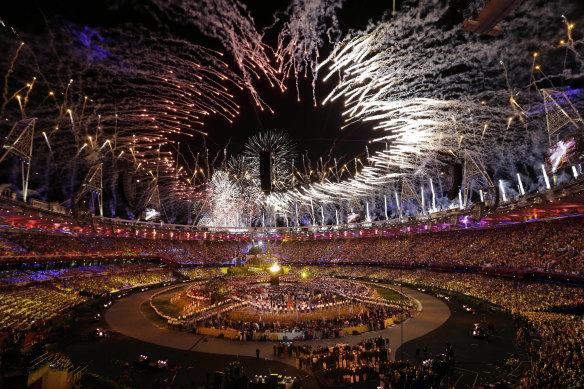 Browne snapped his friend in palliative care a photo of the two of them together ahead of the 2012 Olympic torch relay as they waited for British tennis commentator Sue Barker to deliver it. Only one 500m spot had been allotted for the Nine team by north London, but Fenton "insisted I do it even though I said it should be him," Browne recalled. "That was Gary."
Browne credits Fenton with inspiring Nine to secure the Australian rights to the Vancouver 2010 Winter Olympics and London 2012 Summer Olympics through incumbent broadcaster Seven: "It was a very strategic win for us. Nine was not in a good financial position at the time, following the death of Kerry Packer in 2005. Seven was in the rating ascendant. Fenton then proposed a bold plan.
"We were talking when he said, 'Why don't we try to get the Australian broadcast rights for the Vancouver and London Olympics?' "Because it would cost at least $100 million and we can't afford it," Browne replied.
It was Fenton's idea to share the cost and coverage with Foxtel. After months of haggling, then Foxtel CEO Kim Williams agreed. The free-to-air and pay-TV networks would submit a joint bid, promising an unprecedented 2500 hours between them.
"What do we do now, Gary? asked Browne. Fenton replied: "We fly to Lausanne, Switzerland (headquarters of the IOC) and do our pitch," Browne recalled.
There was harassment and confidential solicitation aplenty, but the call from the IOC came at the appointed hour, 11.05am. "Gary and I went for a walk in Lausanne," says Browne. Seven failed to meet the Nine/Foxtel joint bid.
"Gary dropped to his knees. He was so relieved to have won because he had invested so much. "Not only was he a master tactician, he was a brilliant television producer and an even better technical television builder. A legend in Australian sports and broadcasting history."
During the London 2012 Olympics, Fenton guided Princes William and Harry through the Nine/Foxtel communications center he oversaw, which won an IOC award for the depth and quality of its reporting.
There will be no funeral without his three children – daughters Amy and Jess and son Casey or his two grandchildren Elke and Luca who live in Greece – who are currently abroad. Instead, there will be a memorial service dedicated to his life, which has yet to be arranged.
His widow says of his sports collection: "Gary didn't want to pass it on to the family. He always accepted that it was his passion, not ours.
"After the commercial evaluation, it will probably be auctioned. It includes complete decks of Australian Rules from 1846, Brownlow Medals and one of the finest displays of Olympic torches in Australia."
The Opinion newsletter is a weekly collection of views that challenge, support and inform your own. Login here.
https://www.smh.com.au/national/giant-of-broadcasting-ensured-best-ever-sydney-olympics-coverage-20230214-p5ckd1.html?ref=rss&utm_medium=rss&utm_source=rss_national TV legend Gary Fenton dies