Traveler quarantine ends as China takes first steps out of COVID-19 isolation
Data from travel platform Ctrip showed that searches for popular cross-border travel destinations increased 10-fold within half an hour of the news. Macau, Hong Kong, Japan, Thailand and South Korea were the most in demand, according to Ctrip.
Data from another platform, Qunar, showed international flight searches increased sevenfold within 15 minutes of the news, with Thailand, Japan and South Korea topping the list.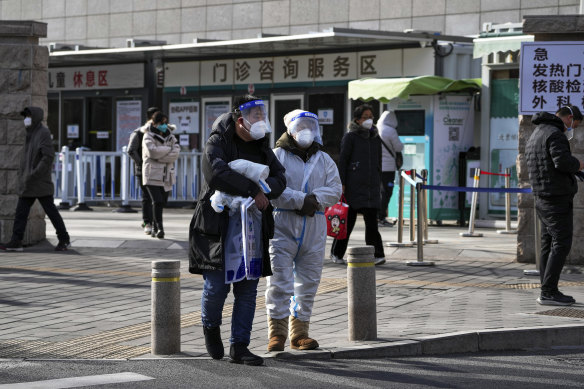 China's management of COVID will also be downgraded from the current top-tier category A to the less severe category B from Jan. 8, the health agency said, as it has become less virulent.
The change means authorities will no longer be forced to quarantine patients and their close contacts and lock down regions.
But amidst all the excitement about a gradual return to a pre-COVID way of life, pressure mounted on China's healthcare system, with doctors saying many hospitals were overwhelmed, while funeral homes report a surge in demand for their services.
Loading
Nurses and doctors have been asked to work while sick and retired medical workers in rural communities have been reinstated to help, state media reported. Some cities are struggling to ensure supplies of anti-fever drugs.
"Just look at the funeral homes in different cities. I heard that we have to wait three to five days for the cremation here," lamented one person in eastern Shandong province on social media.
Temporary pain
While the world's second-biggest economy is expected to experience a significant recovery over the next year, it faces a rough ride in the coming weeks and months once the initial shockwave of infections has subsided as workers fall increasingly ill.
Many stores in Shanghai, Beijing and elsewhere have had to close in recent days as employees have been unable to come to work, while some factories have already furloughed many of their workers for the New Year holidays at the end of January.
"Concerns about a temporary supply chain distortion linger as infections hit workers," analysts at JPMorgan said in a note, adding that their tracking of subway traffic in 29 Chinese cities showed that many people restricted their movements as the virus spread.
Tuesday's data showed that January-November industrial profits fell 3.6% year-on-year, versus a 3% drop from January-October, reflecting the toll of anti-virus restrictions put in place last month, including in major ones production regions.
The lifting of travel restrictions is positive for the $17 trillion economy, but strong caveats apply.
"International travel … is likely to increase, but it may be many months before volumes return to pre-pandemic levels," said Dan Wang, chief economist at Hang Seng Bank China.
"COVID is still spreading in most parts of China, severely disrupting the normal work schedule. The loss in productivity is significant and inflationary pressures could be acute in the coming months as the surge in demand will outpace the recovery in supply."
Reuters
Let our foreign correspondents inform you directly about what is making headlines around the world. Sign up for the weekly What in the World newsletter here.
https://www.smh.com.au/world/asia/china-takes-first-steps-to-emerge-from-three-years-of-global-isolation-20221227-p5c8z8.html?ref=rss&utm_medium=rss&utm_source=rss_world Traveler quarantine ends as China takes first steps out of COVID-19 isolation