Tom Morris on his very public fall from Fox Sports
Morris spoke at length this week on the podcast I co-host with Corrie Perkin, Don't shoot the messenger. It was a long and frank conversation in which Morris took full responsibility, blaming nothing but his own ignorance, arrogance and selfishness for his public shame. The interview underscores his cautious return to the media at SEN, where he will co-host Sunday's pre-game program. sunday crunch time, with former Fox Footy colleague and close friend Sarah Olle.
Loading
The widespread notion that everyone deserves a second chance is not one Morris is banking on. "I can't be clear enough," he told the podcast. "I deserve to be fired."
He says he disagrees with those who believe he has fallen victim to political correctness and has mentally prepared for the reality that he may never work full-time in sports or the media again. In fact, he thinks the prospect is very unlikely.
Not everyone in the AFL community is thrilled that Morris is returning, albeit in a small, once-a-week role. But many of the key figures involved at the time remain vigilantly supportive. They range from AFL boss Gillon McLachlan – who agreed to the quick Fox decision 12 months ago – to senior commentator Kelli Underwood, who was amazed but pleased that her employer took the tough stance, and who wrote a powerful article at the time wrote about the impact Morris' comments had on Barnard.
Both believe Morris deserves another chance, as does Fox Sports executive director Steve Crawley, who oversaw his removal and is proud of the women's stable he instituted, which is still growing into the former Fox Footy AFL boys' club becomes.
"Everyone deserves a second chance, and I support that for Tom," Crawley said. "But I doubt it will come to Fox. And he won't get a third chance."
AFLW's first Premiership coach Bec Godard, now a senior coach at Hawthorn's young team, also endorsed Morris' second chance but added that she doubted a woman in the same position would have been given the same chance.
In his absence, Morris traveled overseas and disappeared from public view for 12 months to seek refuge with his partner, close friends, fractured family and St Kilda Cricket Club. He says he's deeply engaged with his past way of life and remains distraught over his attitudes, some behaviors and the opportunities he missed "to raise myself properly, to become a respectful normal adult."
"I thought I was one of the good guys… Men who are straight and white like me often think we're the good guys, and in fact we don't know what we don't know. I turned a blind eye … I was selfish and ignored it for a decade," he said.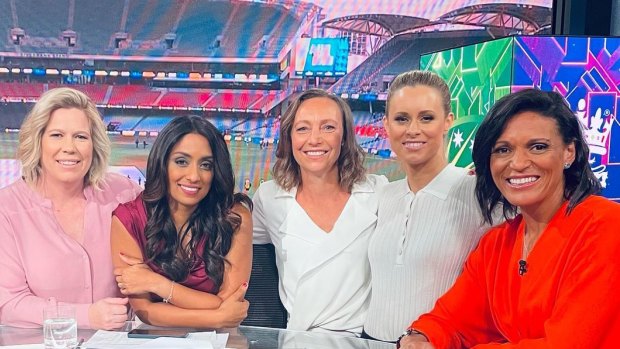 Morris tried to contact Barnard but received no response. "She doesn't owe me anything," he said. "It's not up to her to make me comfortable. I will always feel guilty and ashamed for what I did to her."
He is still uncomfortable talking about his former colleague for fear of indirectly confronting her about what happened last March. Barnard was contacted for comment by Age.
Knowing that ultimately it will be behavior, not words, that counts, SEN decides to hire. Morris avoids the term "rehabilitation," preferring "continued education." For the past year, he has worked with Tanya Hosch, the AFL executive responsible for inclusion and social policy; Patty Kinnersly, CEO of Our Watch; and Todd Fernando, the Victorian Commissioner for LGBTQI+ Communities; and others who wish not to be named. One of many great regrets is that he took up an opportunity offered by a leader in gender equality to join an educational event in 2020, choosing instead to focus on following a story.
Morris' shame was compounded by the effect his comments and subsequent downfall had on his family. Father Tim is a school teacher who, days, weeks and months later, had to deal with his son's behavior at Morris's old school, Melbourne Grammar, and his two sisters, who are both primary school teachers.
The extra time he has available means he has been able to devote a great deal of time to his mother, Gilly, who was critically ill at the time and is still suffering from complications from cancer. Being repeatedly abused on the street was one thing Morris had to accept, but watching his family's devastation was quite another.
Loading
Morris came along to his scheduled interview Don't shoot the messenger prepared but afraid. He was due to break his silence with JOY FM in January, but that radio station canceled the interview shortly beforehand. He wouldn't use the term redemption but it will be interesting to see if the award-winning journalist can return to the role he once held as one of Australia's rules football's top newsbreakers.
Morris says he doesn't know who leaked his WhatsApp comments and has no interest in finding out. He's also not interested in making a connection between the timing of his fight with trainer Beveridge and the leaks that led to his sacking. That the WhatsApp conversations even existed was the sole reason for its downfall. "The Western Bulldogs were not responsible [for the leaks]," he said. "…It would never have come out if I hadn't had those thoughts in my head.
"If public opinion is that I'll never be able to get a full-time job again, then I'm totally prepared mentally because I only have myself to blame… It's nobody else's fault, I'm not bitter with anyone… like that many people were so hurt by what I did."
The Morning Edition Newsletter is our guide to the day's most important and interesting stories, analysis and insights. Login here.
https://www.smh.com.au/sport/afl/disgraceful-disgusting-and-deserving-of-the-sack-tom-morris-on-his-very-public-downfall-20230307-p5cpy7.html?ref=rss&utm_medium=rss&utm_source=rss_sport Tom Morris on his very public fall from Fox Sports