Tom Lynch and Charlie Curnow the winners in a game with and without one
If Richmond went into this game as the more experienced side, the Blues carried the heavier burden: that of the not-so-quiet despair of a proud club that has spent too long in the basement and not in conversation about the Premier League.
Richmond were the club that had more to lose considering team demographics. The Tigers fielded a team of seven players aged 30 and over, and three of those – Jack Riewoldt, Trent Cotchin and Dustin Martin – are totem figures in the club's turbulent history. A fourth, Dylan Grimes, is not far behind the Trinity in stature for the faithful and is more critical to team structure than few.
Additionally, the Tigers have doubled down on the here and now by spending draft money – and seven-year contracts – on ex-giants Tim Taranto and Jacob Hopper; Of this pair, Taranto was the more productive, especially in a fierce but scrappy first half.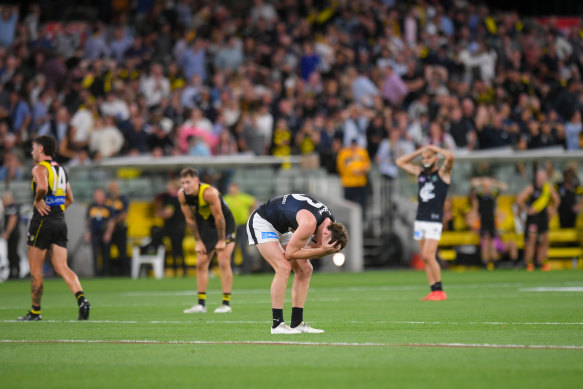 But the Tigers have had three flags in their trophy cabinet since 2017, and if they're betting on staying in contention, they're also playing house money; If their game with Hopper and Taranto — and continuing the careers of Riewoldt and Cotchin — doesn't pay off, they'll still have those flags.
Carlton was and is the club with the most drivers this season.
In the end, neither club lost anything and the 88,000 were left with that odd feeling that always comes with a draw; if there are those who don't like the lack of a winner, a draw – both home and away – is still a result.
Certainly the Tigers would have settled for two Premiership points with 50 seconds remaining – ahead of Tom Lynch's colossal pack mark – even if they had won the territorial battle decisively (66 forward entries to 45) and failed to convert, regretting a failure by Damien Hardwick.
Conversely, it felt more like a loss for the Blues in the sense that – after Charlie Curnow's toe-poke goal – they held a seven-point lead and looked like they had a fair chance to move on.
Carlton's biggest gamble wasn't in post-season recruiting like the Tigers, but in selection for that first game. The Blues selected a pair of first players, Luke Cowan and Ollie Hollands. It's difficult to win a finely balanced game like this – which went to the end – with two debutants, although the Blues substituted Cowan for a six-year 'veteran' at Lochie O'. brien
https://www.smh.com.au/sport/afl/lynch-and-curnow-the-winners-in-a-game-with-and-without-one-20230316-p5csmg.html?ref=rss&utm_medium=rss&utm_source=rss_sport Tom Lynch and Charlie Curnow the winners in a game with and without one