Three children were hit by a car on Sydney's Lower North Bank
Three students remain in hospital after being hit by a car on Sydney's lower north coast on Thursday afternoon.
Following reports of an accident, emergency services were called to the Pacific Highway near Falcon Street in Crows Nest around 3.30pm.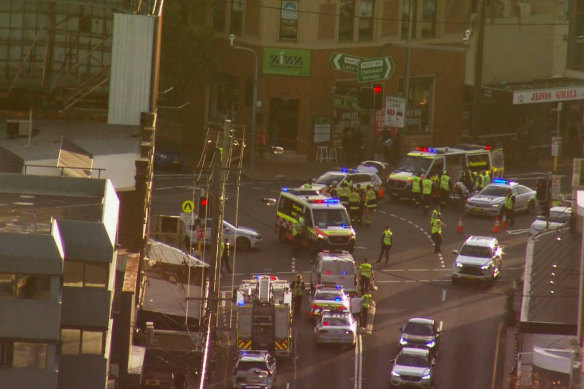 All three boys suffered leg and head injuries, police said.
NSW Ambulance said two of the boys were taken to Westmead Children's Hospital and one to Sydney Children's Hospital in Randwick.
A man was arrested in Lane Cove around 4pm, according to NSW Police. He is now being questioned at Chatswood Police Station.
A woman named Linda told 2GB Radio she saw the incident and said the driver didn't stop after hitting the boys.
"They just went through it so fast that the noise of the guys hitting the car was horrible," she said.
"A few people got his Rego number."
The boys had just left school and were crossing a green pedestrian light, the witness said.