This New Yorker has unplugged the refrigerator and stove, has its own solar power and produces hardly any waste
When he first unplugged his fridge, Spodek says, "I honestly wasn't sure I could survive a week without it. I didn't really have a plan how I would manage without it. But I figured it wouldn't kill me and I could always plug it back in."
Being vegan without having to refrigerate meat or dairy certainly helps.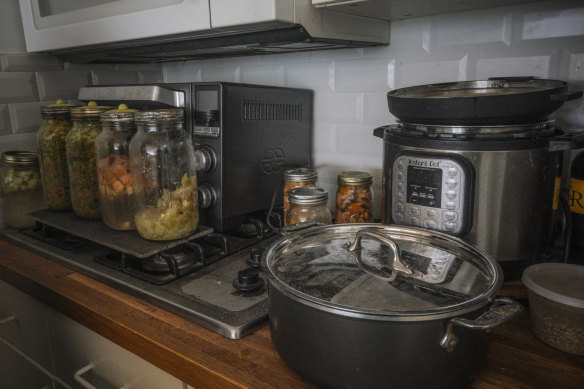 Skeptics – and there are many – point out that going without a refrigerator requires grocery shopping almost every day. For those with large families or who need to drive to the grocery store, more frequent shopping trips could negate the energy savings. Not to mention that the inconvenience would be unbearable for most.
Also, improvements to refrigerators over the years mean that they now typically use less electricity than, say, a heater or water heater.
"While using less energy is always commendable, most households could make a bigger difference by switching to more efficient methods of heating and cooling their home, such as air conditioning. a heat pump," says Joe Vukovich, an energy efficiency advocate with the Natural Resources Defense Council.
While refrigerators "were massively inefficient in the '70s and '80s, their energy efficiency has increased dramatically since then" and continues to improve, he says. Many appliance stores also recycle old refrigerators, and some utility companies offer incentives for discarding older models.
Another use of the refrigerator can also make a difference, says Vukovich: opening the door less often saves energy, for example.
"I'm not saying there isn't room for improvement, but the story of greener refrigerators is a tremendous success story," says Vukovich.
But Spodek notes that refrigerators typically run non-stop: "If everyone could go without a refrigerator for, say, two weeks during the year, that would save an inordinate amount of electricity."
And they might learn something.
Aside from the energy savings, Spodek — who works as an executive coach, teaches leadership as an associate professor at New York University, and writes blogs and podcasts about his experiences — says not having a refrigerator has improved his quality of life. He buys fresh produce at farmers' markets, receives boxes of produce from an agricultural cooperative (CSA or Community Supported Farming), keeps a supply of dried beans and grains, and has become familiar with some fermentation techniques.
He cooks with an electric pressure cooker and, very rarely, a toaster that powers them with a portable solar panel and battery pack. Living in a city apartment means he has to lug the panel and battery pack up (and down) 11 flights of stairs to the roof of his building a few times a day.
It's an exercise he describes as "almost spiritual." As he climbs the stairs, he thinks of people around the world who live without modern conveniences. "It definitely teaches me more about their cultures than just flying somewhere for a week."
Loading
Without a fridge, he's also learned to cook better and use a wider variety of seasonal produce.
"In the winter it's just turnips and carrots and potatoes and onions, plus dried beans and grains. I realized that so kitchen happens. You take what you have and you make it taste good," he says. "And now all I have to do is eat what I buy before it goes bad or pickle it so it lasts a little longer."
Other aspects of his efforts to live more sustainably: Spodek says he hasn't taken out trash since 2019 (he hasn't yet produced enough non-compostable, non-recyclable waste to fill it) and hasn't flown since 2016 (his parents live in nearby).
While it might not change the world if one person uses a little less electricity by unplugging their fridge, Spodek notes that, like the zero-waste movement, "what I do counts."
"Set an example for millions of people to see that this is even possible? That's huge."
AP
https://www.smh.com.au/world/north-america/fridge-and-stove-free-this-new-yorker-has-unplugged-his-power-hungry-appliances-20230127-p5cft9.html?ref=rss&utm_medium=rss&utm_source=rss_world This New Yorker has unplugged the refrigerator and stove, has its own solar power and produces hardly any waste