Thea Anamara Perkins wins the La Prairie Art Award
Arrernte and Kalkadoon artist Thea Anamara Perkins has won the $80,000 La Prairie Art Award, an annual award that promotes the work of Australian women artists.
Thea, whose prominent family includes her grandfather, the late activist Charles Perkins, and her aunt, film director Rachel Perkins, won the award with four portraits of three generations of her relatives.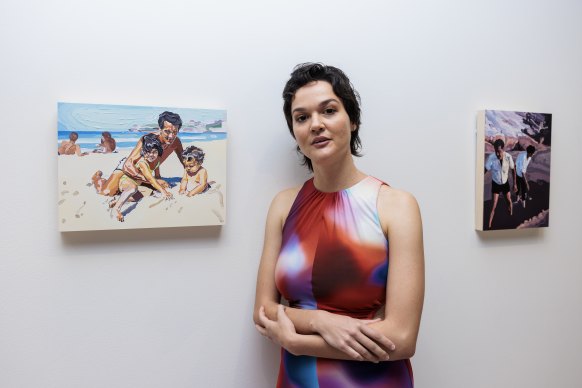 Each of the images is a re-editing of snapshots of intimate moments from the past, including a birthday celebration and Charles Perkins' graduation from Sydney University in 1966.
"I tried to convey a very nuanced view of these emotions," says Perkins. "They are united by a sense of security and connection, but as First Nations people there is always a melancholy that we have to deal with.
"When we look around, we always see an unwavering connection and strength, despite the challenges we have faced and continue to face. It is our love and strength that has made our community and culture strong."
Perkins was "very shocked" when she first heard that she had won the prize, which included a trip to the Art Basel art fair in Zurich.
"I spent the whole phone call with my mouth open," she says. "It's still very surreal."
As part of such a prominent family, which also includes her great-grandmother, Arrernte Elder Hetty Perkins, and her mother, art curator Hetti Kemerre Perkins, Perkins is delighted to have her own terms recognized.
https://www.smh.com.au/culture/art-and-design/intimate-portraits-of-celebrated-family-scoop-80-000-prize-20230314-p5crut.html?ref=rss&utm_medium=rss&utm_source=rss_culture Thea Anamara Perkins wins the La Prairie Art Award