The vegetable oil spill on Melbourne's beaches is still a mystery
A vegetable oil spill on beaches in south-east Melbourne last week remains a mystery as the Environmental Protection Agency (EPA) continues to investigate the source and whether it is linked to reports of dead fish and affected birds in the area.
Beachgoers have been advised not to swim at Elwood and St Kilda beaches over the weekend – when temperatures soared above 30 – after swimmers reportedly emerged from the waters covered in an oily substance on Thursday.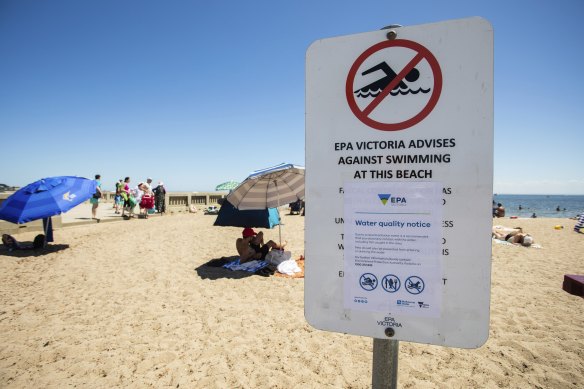 The EPA issued water quality warnings for the beaches of St Kilda, Elwood, South Melbourne, Middle Park, Port Melbourne, Sandridge and Williamstown on Friday, advising visitors to avoid sand and water whenever possible.
There have also been reports of dead fish and some affected birds in the area, but the agency has not yet determined whether these cases are related to the contamination. Oil is known to reduce oxygen in water, resulting in uninhabitable living conditions for certain marine life.
Lab results from samples taken by EPA officials later showed the spill was vegetable oil — mostly palm oil, a product commonly used in food manufacturing and beauty products. The agency said it "does not pose a risk to human health, but is still uncomfortable for beachgoers and may harm some wildlife."
Signs were posted along affected beaches urging swimmers to stay out of the sea, but people were still seen Sunday afternoon seeking a respite from the hot temperatures.
The oil spill sparked concern for the small colony of penguins that frequents St Kilda's breakwater, and the EPA, along with wildlife experts from Zoos Victoria, began monitoring the colony's welfare on Friday.
https://www.smh.com.au/national/victoria/mystery-surrounds-vegetable-oil-spill-at-melbourne-beaches-20230108-p5cb3o.html?ref=rss&utm_medium=rss&utm_source=rss_national The vegetable oil spill on Melbourne's beaches is still a mystery