The two elephants exposed in the classroom
In 2013, Greiner's own party conceived and launched Operation Sovereign Borders, a policy carried on by the ALP. As chairman of the Australian Refugee Council, Greiner is now calling for an end to the indefinite offshore detention of refugees. Australia needs to do better with refugees. Detention abroad is cruel, a waste of talent, expensive and violates international human rights law. In the future, Australia will face a flood of refugees whose home countries are mired in political unrest due to drought, heat and famine.
Geoff Black, Caves Beach
It's heartening to hear a former political leader recommend ending the politicization of asylum seekers arriving by boat. "In Limbo" cannot describe what has been done to completely innocent people by both sides of politics. The approximately 75 men who remain in offshore detention in Port Moresby lead lives of daily trauma, fear and suffering. When Labor came to power in 2022, the Tamil family was pardoned and sent back to their community. Time for another act of mercy, also for this other national shame that has lasted for too long. Christine McNeil, Ballina
Thanks are due to Greiner for calling for an end to the politicization of the refugee issue. For over a decade, refugees who came to Australia to avoid persecution have been used as political footballs because they came by boat. Let's hope Greiner's voice can influence the Albanian government to free those living in limbo from a life of insecurity. Judith Reynolds, Leura
Nick Greiner got it right. Why should 1,000 boat people be left in limbo by the astute policies of two prime ministers who torpedoed the best of Australian goodwill and generosity?
Max Fossey, Oakville
It is time to allow the resettlement of the remaining refugees. The atrocity shared between both parties should end, not only for humanitarian reasons, but also because it obviously makes economic sense. We have already proclaimed our flag as a country unfriendly to refugees and likely to refuse the lavish welcome we are given by the indigenous people. Let's show we can do better.
Louise Dolan, Birchgrove
Draw the line at Latham
Mark Latham appears determined to break Billy Hughes' record of representing six political parties in Parliament ("Latham Quits One Nation Claiming It Wasted Taxpayers' Money," August 22). He led five, outlasted four and was eliminated from three. When asked why he was never a member of the Country Party (now the National Party), Hughes famously replied, "A man's gotta draw a line somewhere!" But will any political party ever have the common sense to draw a line at Latham ? Tom Kelly, Potts Point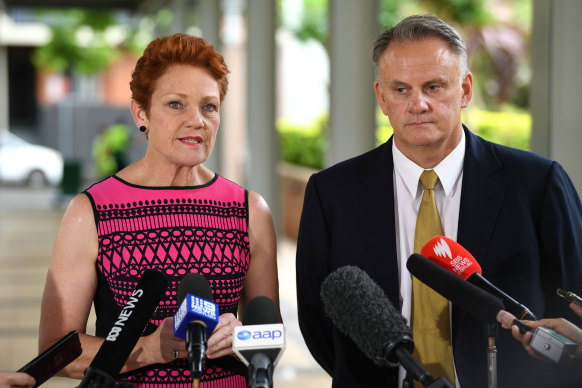 Back off well, beware of the explosive toxicity and behold the impending implosion. Cleveland Rose, Dee Why
Minns' Sins
Chris Minns' plan to become prime minister for just one term is going well ("Coal-fired Power Plant to Gain New Lifeline," August 22). It's sidelined teachers, commuters and businesses in western Sydney are in turmoil, gaming families are disappointed and now environmentalists are horrified by plans to expand Australia's largest coal-fired power plant. What's next, Chris? Peter Hill, East Ballina
As the world's climate continues to heat up and Australia is one of the biggest polluters, we should be at the forefront of renewable energy. Unfortunately for the current Labor governments, business is business as usual, using our taxes to prop up the fossil fuel and gas industry and its corporate partners. Sandra Langtree, Lilyfield
What a massive waste of taxpayers' money: providing $200-$400 million as a lifeline to keep polluting our atmosphere with coal-fired power. To continue and escalate our droughts, floods and bushfires. Surely the government can come up with something more innovative and not keep relying on the same old fossil fuel advocates over and over again. ​Peggy Fisher, Manly
net benefits
Prime Minister Minns is right – it is not yet time to remove shark nets ("Mayor Opposes NSW Shark Netting," 21 August). The New South Wales government maintains the networks because the protection of human life is undisputed. Nine young people, with an average age of 17, were beaten to death by sharks on Sydney beaches in the ten years before the nets were installed in 1937. In the ensuing 86 years, despite a massive increase in net-equipped sea beaches, there were no fatalities from marine exploitation. The odds of this happening by accident are less than one in a million.
Since the nets actually catch other marine life, there's hope that new technology will soon eliminate the need, but that time hasn't come. All marine life is important, but as a doctor and volunteer surf lifeguard, I can't help but prioritize protecting human life. Graeme Stewart, Palm Beach
public issue
As Nicole Gurran says, leaving the housing problem to private companies won't solve it ("The Real Reason Housing Supply Is Failing to Keep Up with Demand," August 22). Our government's pro-business policies are exacerbating the crisis. For example, the concessions to real estate companies and foreign buyers are consistent with the perspective that housing is for the accumulation of wealth rather than the provision of protection. The result is an excessive demand for living space. In this overheated market, first-time homebuyers must compete with well-funded real estate investors, and the homeless and other renters must compete with the flood of new immigrants in need of a home. Ian Penrose, Kew (Vic)
So we actually want to build 100,000 additional houses every year. Surely every house or apartment needs two years of work? So we are looking for 200,000 unemployed skilled workers in construction or building materials industry and intend to increase the number up or down depending on the economic situation. I don't think that will work. Noel Thompson, Riverview
Pay your way
Currently, more than 17 per cent of Australia's population is aged 65 or over ("Workers will bear their tax burden in the next decade", 22 August). Fewer than one in six of these people pay income taxes or Medicare levies, largely due to the short-sighted vote-buying policies of previous federal governments. According to forecasts, the proportion of people over 65 will rise to over 21 percent by 2063. The current unequal charity is clearly unsustainable. The many financially affluent retirees who can afford to contribute to their living expenses should be required to do so. Colonel Nicholson, Hawk's Nest
Bill doubts
The Equality Bill proposed by Alex Greenwich MP is like the vicar's egg: good in parts. ("Greenwich to Push LGBTQ Reform," August 22). Plans to ban gay conversion therapy and workplace discrimination based on sexual orientation are commendable. More worrying is the plan to allow people to legally change their gender on their birth certificate without the need for a gender reassignment. This is commonly referred to as gender self-identification and means the end of NSW women and girls with same-sex spaces, services and sports. As a long-time Labor Member, I am concerned about these proposals. The Minns government needs to give this bill a thorough scrutiny and seek public feedback, not just wave it through to be inclusive. Lisa Miller, Ashfield
show respect
Many thanks to Caitlin Fitzsimmons for her thoughtful article on conversion therapy ("Jeremy Was 16 and Depressed. A Psychiatrist Offered Therapy to Destroy His Attractions to Boys," August 19). In school from 1957 I sat with the girls and identified with them, but could not express my gender problems. I started cross dressing at the age of 11 but had wished to be a woman long before that age. It took me years to find the courage to come out to a few friends, co-workers and family. Now I'm on my way to living the life I've always wanted and I'm so grateful to the friends who took me in. The anti-trans stance of Mark Latham and others hurts me as a retired train driver, union activist and taxpayer who has worked full-time for 49 years. Had it been possible, I would have willingly switched in the early 1960s. My heart is with those struggling with gender issues. It is neither narcissistic nor frivolous. Show us some respect. Helen Vann Cremer, Auburn
Thinking about it now ("Following the World: Pushing for Australian-Made Defense Drones," August 22), how relevant will these $400 billion submarines be 18+ years from now? Maybe they'll go straight to the Maritime Museum. Judith Rostron, Killarney Heights
Regarding mandatory farm jobs ("Forget military service, Australia needs mandatory farm jobs", 21 August), perhaps this concept should be extended to also include a mandatory assignment as a teaching assistant in a school class before parental status is reached. Graham Tooth, Kings Point
The old rental system stipulated that rents could only be increased by the CPI. I hear no mention, either from the Greens or from the Labor party, of this fair arrangement which could easily be restored and which would give reassurance to the many tenants across the country. Mike Forster, Mudgee
The key to VAD is the V – "voluntary" (Letters, August 22). Just like with religion, you can choose whether or not to get involved. And nobody argues against these life choices. Rowan Godwin, Rozelle
No sensible prime minister would leave the house without first having the prices of bread, milk and petrol written on the back of his hand, as well as current interest rates and unemployment figures. Rosemary O'Brien, Ashfield
The digital gaze
Commenting online on one of the stories that drew the most reader feedback yesterday smh.com.au
Employees will have to bear a greater tax burden in the coming decade
Out of The doctor: "Payment tax receipts more than double corporate tax receipts." What's wrong with this picture?"
Submit a letter to The Sydney Morning Herald, email to Letters@smh.com.au. Click here for tips on submitting letters.
The Opinion newsletter is a weekly roundup of opinions that challenge, advocate and inform. Login here.