The Sydney Sightseeing Walks for the visually impaired
"This intrigued me and got me thinking how you would present a sightseeing tour for a traveler without sight."
Travel planning involves paying attention to details such as: B. Developing advice to help white cane users and dog handlers navigate the locations visited by McFarlane's tour groups.
One of McFarlane's early travels included kayaking a blind traveler in Byron Bay.
"Jack is completely blind and went kayaking during whale season and heard a whale accidentally go under his kayak," he says.
As the tour criss-crosses Chinatown, McFarlane points out Braille street signs and tactile dots on the floor that warn blind and visually impaired pedestrians when to stop or which direction to walk.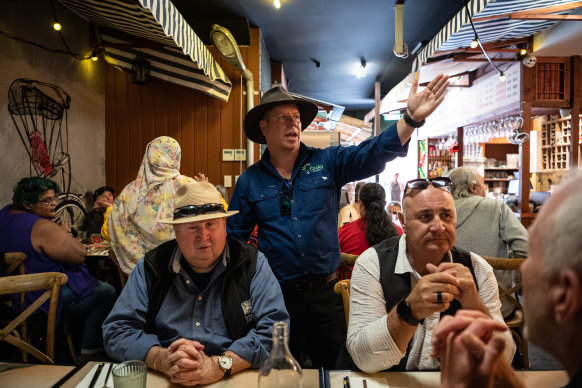 The group is mildly familiar, many of whom have traveled with McFarlane to destinations such as Kakadu and Uluru, the Great Barrier Reef and Cradle Mountain in Tasmania.
Some members of the group use white canes, while others are assisted by guide dogs.
"I think there's an unspoken camaraderie that we all have with each other," said tour guest Fernanda Castro. "When we see someone who needs help, we help a lot."
Castro is accompanied by Otis, a black Labrador guide dog she names "Labravac."
Loading
"He's like a vacuum," she said. "He loves food, so we'll see how he's doing, whether he's well-behaved or not."
Tourism Australia estimates that a quarter of international travelers have an accessibility need, including mobility, cognition, vision or hearing needs, which impacts travel, transport and activity choices.
International travelers with accessibility stay an average of 22 nights compared to non-accessible travelers who stay an average of 12 nights, a Tourism Australia spokesman said.
"Travellers with accessibility needs tend to have longer vacations and larger tour groups, including attendants or on organized tours," he says.
The 2021 National Visitor Survey found that accessible travel groups accounted for 17 per cent (US$13.5 billion) of domestic day and overnight stays and 19 per cent (46.1 million) of domestic travel.
But the chief executive of NSW's Physical Disability Council, Serena Ovens, said the tourism industry was not well geared towards tourists with access needs.
"They have money and want to travel and have families and friends to go with them," she says. "We lose a lot of revenue if we continue to ignore it."
Loading
Ovens said there was a lack of information about the accessibility of spaces, venues and tourist experiences.
Accommodation providers may have accessible rooms, but then upon arrival people find they don't have access to meals or pool areas, she says. "An awful lot are charged more than the standard rate for an accessible room."
Ovens said many airlines refuse to accommodate the needs of people with disabilities, operate planes that do not have accessible bathrooms, carry no more than two wheelchair users on the same flight and damage mobility equipment.
The Morning Edition Newsletter is our guide to the day's most important and interesting stories, analysis and insights. Sign up here.
https://www.smh.com.au/national/nsw/sensory-tours-the-sightseeing-walks-for-people-without-sight-20221221-p5c80e.html?ref=rss&utm_medium=rss&utm_source=rss_national_nsw The Sydney Sightseeing Walks for the visually impaired