The Sudan conflict is affecting the Sydney community, who are unsure if their families will survive
"It's hard. There's no way out…some of them were killed because they're civilians."
Sending money to relatives was routine for many in Sydney's Sudanese community, but now it has become almost impossible and Mela fears they may starve.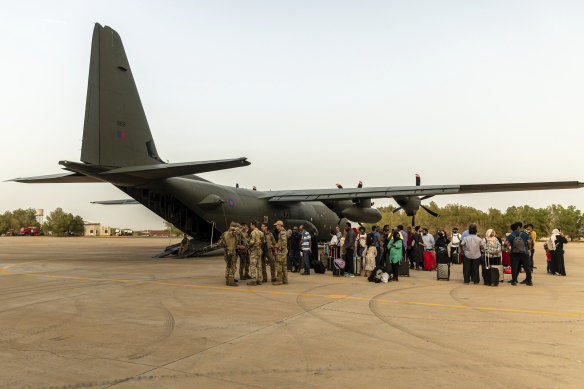 "I've spoken to my older brother who is there and my cousins, my nephews and my nieces, all there. They were really stranded and it's hard for them to get anything to eat at all and they even asked me if I could send money [but] there's nowhere to go and collect the money," he said.
The Department of Foreign Affairs and Trade has assisted more than 150 Australians and their families to evacuate Sudan and has been in contact with more than 100 registered in the country.
Secretary of State Penny Wong confirmed that the RAAF had joined an international evacuation operation overnight. It flew 36 Australians and their family, as well as citizens from six other nations, to Cyprus. "Unfortunately, we still have Australians on the ground," Wong told ABC radio on Wednesday.
Sudan's Ambassador to Australia, His Excellency Abdalla Wadi, who represents the Sudanese government, blamed the conflict on the paramilitary Rapid Support Forces and accused the group of not being able to reach a joint agreement "to have an army in the to have land". .
"A meeting between the two parties was supposed to take place on April 15 last year to agree on final points, but … an unconstitutional regime in Sudan, the RSF, launched a surprise attack on the same day," he said.
"As a result of its failure to achieve its objectives, the RSF has launched large-scale, aggressive operations to destroy key units or services and attack a range of diplomatic missions, looting property, storming citizens' homes and threatening them as people to use shields."
Blaming the army for attacking first, the RSF said they occupied airports in the northern city of Merowe and El-Obeid to the west on April 15.
Wadi strongly denies that the RSF is still in control of the airports and remained hopeful the conflict could be resolved internally after a seven-day ceasefire was agreed between the army and RSF.
"More than 95 percent of the entire country is under full government control," Wadi said.
"What is happening in Sudan is an internal problem and we are very well placed to do our best to solve it internally."
Professor Michael Humphrey, an expert on social change and the Middle East at the University of Sydney, was less positive about the state of Sudan, saying there had been optimism that a democratic movement could grow but the fighting has dashed that possibility.
"It seems more and more that that was more of a facade and that the military, in this case none of those groups, were really willing to let go," he said.
Loading
"It's quite remarkable when you think about it, these are Sudanese fighting amid civilian populations. It's pretty incredible in the sense of, are they really that detached from their own country and from their own families and regions?"
Humphrey said the crisis Sudan is facing is working on how the Sudanese army or RSF – both a form of military – could cede power for more stability.
"Whether it's the official military or the kind of new military… how do you get them to give up power? This is the crisis and it doesn't look very optimistic," he said.