The Senate position left vacant by Jim Molan's death could trigger a "messy pre-selection."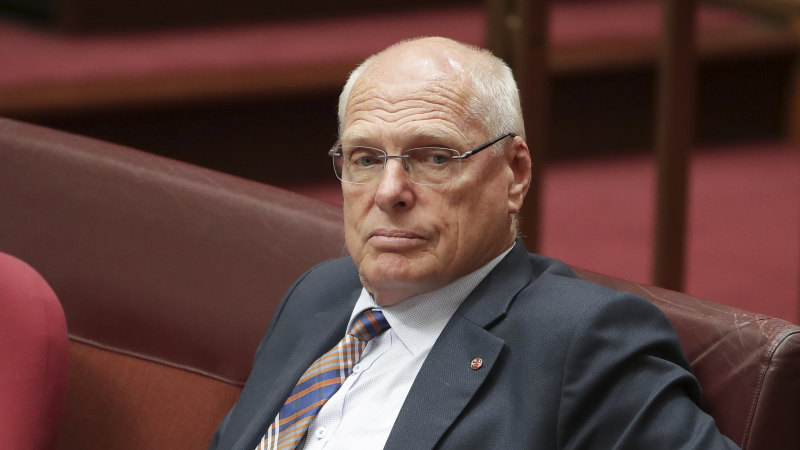 "Of course that [recommendation] meaning whenever there is a vacancy available or there is a shortlist for a seat in the House of Commons, it would be great to see more immensely qualified, high caliber women take up those roles than we have seen in the past," she said reporter on Tuesday.
Loading
"That said, I think it's a little early and possibly a little inappropriate to talk about Jim's Senate replacement today. Our hearts, minds and thoughts are with Jim's family."
Molan's successor will be decided by the votes of some 700 members of the NSW Liberal State Council, which includes delegates from across the state.
The Moderates currently hold two of NSW's Liberal Senate seats in Andrew Bragg and Payne, while Senator Hollie Hughes' seat is from the centre-right and Molan from the hard right.
A NSW MP said while there was no guarantee the moderates would support the right-wing candidate to replace Molan, it would be "greedy" for the moderates to win three out of four Senate seats.
Loading
Payne has made no public indication that she plans to retire during her tenure, but several moderates said there was a loose understanding when she and Molan were pre-selected that they would not serve the full term.
They said the state Liberals are likely to urge their federal counterparts to delay filling the vacancy Molan had vacated until after the state election in March.
"Nobody thinks it's great to have a nasty, divisive primary in the middle of the state election," said the MP.
Controversial trans rights critic Katherine Deves, who unsuccessfully contested Warringah's seat for the Sydney Liberals in May's general election, said she was interested in the seat but declined to say whether she had been approached to contest the shortlist .
Loading
"I would be delighted to be able to continue Senator Molan's excellent work in our Bundestag," said Deves.
Fiona Scott, the former member for Lindsay's federal seat in Sydney's outer west, said she was considering running for Molan's position.
Another potential candidate is Mary-Lou Jarvis, former Vice-President of the NSW Department and former President of the Women's Council. When contacted, she said it is now time to reflect on Molan's legacy and offer his condolences to his family.
NSW Liberal sources said three likely candidates to replace Payne if she retired were Gisele Kapterian, a former associate and solicitor of Julie Bishop who missed out on Bennelong shortlist at the last election, Jane Buncle, a lawyer who was in the running for Warringah before she retired, and Maria Kovacic, President of the NSW Liberal Party, who unsuccessfully ran for Parramatta in the last election.
Break through the noise of federal politics with news, perspective and expert analysis from Jacqueline Maley. Subscribers can sign up for our weekly Inside Politics newsletter here.
https://www.smh.com.au/politics/federal/messy-fight-on-cards-for-molan-s-senate-vacancy-20230117-p5cd7s.html?ref=rss&utm_medium=rss&utm_source=rss_politics_federal The Senate position left vacant by Jim Molan's death could trigger a "messy pre-selection."