The sails of the Opera House light up in celebration of the indigenous people
Kamilaroi artist Rhonda Sampson wants us to learn a little more about Barangaroo, the Indigenous woman whose name has been given to the six-acre reserve in Sydney hosting the 20th WugulOra Morning Ceremony on Thursday morning.
A sacred and contemplative celebration of First Nations culture, the ceremony has been held since 2003 on January 26, the day the First Fleet entered Sydney Harbor in 1788.
Just before a flame is lit on Me-Mel (Goat Island) and transported to Barangaroo via the tribal warrior to be used in the Smoking Ceremony, one of Sampson's artworks, dian warrane, is projected onto the Sydney Opera House.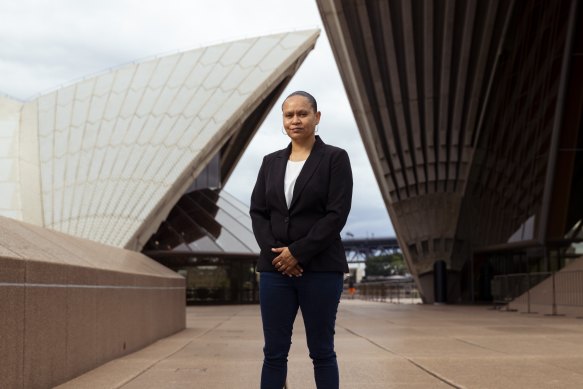 It's a celebration of First Nations women in the waters of Sydney Harbour, particularly four veteran fisherwomen who have made significant contributions to Aboriginal history – Barangaroo, Patyegarang, Daringa and Boorong.
"The women have pretty much ruled these waters at fishing; They were the main providers for their clans," Sampson said.
"Today it's mostly men who are associated with fishing, but back then it was women. So I thought we would spotlight these women and their contribution to Sydney's history."
Sampson grew up in Campbelltown, south-west Sydney. She said art has always been a part of her life, but only recently has it evolved into her career.
"It's natural for our people. We're nature artists, so I've been drawing since I was a young girl.
"It wasn't until about five years ago that I got curious about graphic design, and I went to Campbelltown TAFE and got a cert three just to dip my toes in the water.
https://www.smh.com.au/culture/art-and-design/opera-house-sails-shine-in-celebration-of-first-nations-people-20230125-p5cfa0.html?ref=rss&utm_medium=rss&utm_source=rss_culture The sails of the Opera House light up in celebration of the indigenous people