The Russian Wagner boss compares his "bloody" role to Rasputin
Moscow: Russian mercenary chief Yevgeny Prigozhin has responded to comparisons between himself and the monk Rasputin, who treated the last tsar's son for hemophilia, saying his job is not to stop bleeding but to shed the blood of Russia's enemies.
Londons financial times said over the weekend that Prigozhin has growing influence in the Kremlin, comparing him to the Orthodox monk Grigory Rasputin, who had significant influence over the wife of Russia's last Tsar, Nicholas II.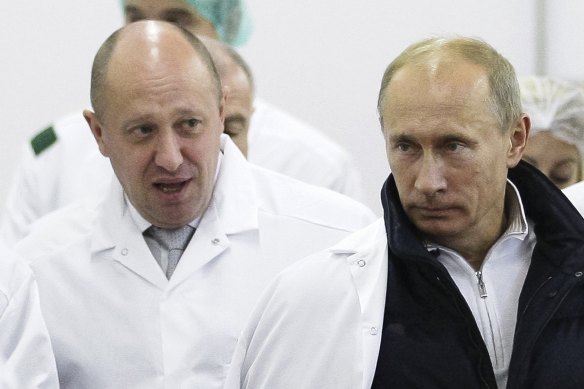 Prigozhin admitted only last September that he founded the Wagner Group, which has played a major role in the Russian military's attempts to seize territory in Ukraine's eastern Donbas region.
"I'm not very familiar with the story of Rasputin, but as far as I know, an important attribute of Rasputin is that he stopped the young prince's blood flow with incantations," Prigozhin's press service quoted him as saying on Sunday, referring to the article.
"Unfortunately, I don't staunch the flow of blood. I bleed the enemies of our motherland. And not by incantations, but by direct contact with them."
Loading
Wagner was used in a number of African countries, mainly to combat insurgents. In recent months, Prigozhin has been featured in online videos attempting to lure inmates from Russian prisons to Ukraine.
the financial times was not the first to compare his role to that of a monk at the Russian imperial court – a Russian journalist drew the comparison last year.
The newspaper said that Prigozhin, like Chechen leader Ramzan Kadyrov, another active supporter of the Russian war, "has positioned himself as a harsh critic of the military, bureaucratic and business elites who allegedly abetted Putin with their half-hearted, incompetent approach to the war let down ".
https://www.smh.com.au/world/europe/russian-wagner-boss-compares-his-bloody-role-with-rasputin-20230123-p5cer3.html?ref=rss&utm_medium=rss&utm_source=rss_world The Russian Wagner boss compares his "bloody" role to Rasputin