The Randle Street building is about to be demolished
A long-haul, 60-ton excavator with a reach of about 23 meters has arrived to demolish the burned-out Surry Hills building that was destroyed by an inferno last week.
Fire and Rescue NSW Superintendent Adam Dewberry said the heavy machinery would soon begin demolishing the Randle Street building as quickly and safely as possible.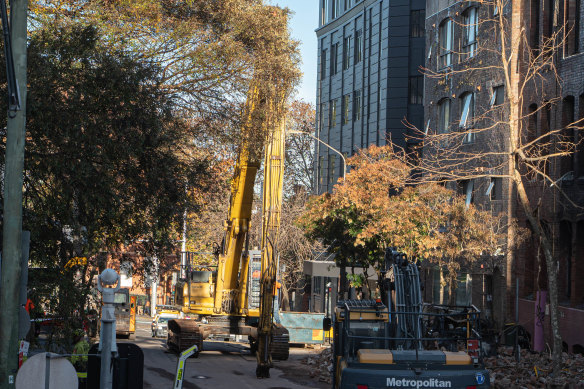 "We want to make sure everyone stays safe, but we also don't want to cause any damage to adjacent buildings and any utilities in and around the road," Dewberry told Ben Fordham on 2GB on Tuesday morning.
"It's a heavy machine, we've got gas lines under it, we've got electricity and water, so we just have to make sure we don't cause any more problems and I'm confident we won't."
On Monday, New South Wales Police said they were concerned for two missing homeless people known to be in the area, who Dewberry said is still under investigation.
"Information is patchy as to who is there…no person is actually reported, it's just a little communication from people in and around them saying, 'Oh, we think someone was sleeping there, but we haven't seen them and we.' "I'm not exactly sure," he said.
"Police are working in and around this, they're conducting a lot of investigations and they'll be able to provide more information on that."
Dewberry said parts of the building are expected to be demolished Tuesday, but it's important to remember that criminal investigations are still ongoing at the site.