The poignant story behind Hugh Sheridan's return
In the early morning of January 25, 1996, just a few hours before the premiere of his Magnus Opus, Rent, playwright, composer and larger than life character Jonathan Larson collapsed and died in his New York apartment. His death at the age of 35 from an aortic aneurysm was both tragedy and irony. He had struggled for years to get his career off the ground and would not live to see his raw and exuberant rock opera, which celebrates the lives of artists and bohemians living in the shadow of AIDS, win a Pulitzer Prize and four Tonys would awards.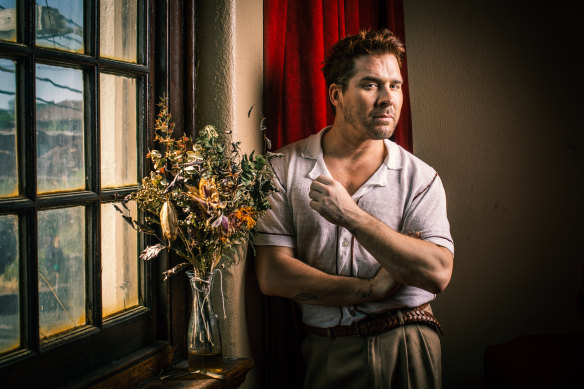 Did Larson have a sixth feeling that he was going to die young? That's a question that actor Hugh Sheridan pondered. Next month he will take on the role of the lanky composer in the Australian premiere of tick, tick… BOOM!, a semi-autobiographical musical about Larson's remarkable life, imbued with a carpe diem ethos that has been a hallmark of his work.
"I think he knew," Sheridan says during a break in rehearsals. "There's just this ominous feeling you get from him, that time is running out, that he has something to do, something to prove."
Birth and death collide on the show as Larson struggles to make a name for himself before he turns 30ick, tick… BOOM! – from a rock monologue he wrote as a solo track in 1989 – represents the two ticking clocks of his potential and his friend's imminent death from HIV.
2021, Hamilton Creator Lin-Manuel Miranda made his directorial debut while filming tick, tick… BOOM! into a critically acclaimed film starring Andrew Garfield. As in Rent, Larson's musical talent is evident in the elegiac; songs like Louder than words and 30/90 celebrate both sadness and joy, panic and emotion through intimate, captivating lyrics that create a sense of solidarity.
For Sheridan who is a big fan of Rent, the decision to play Larson was an easy one. There were a number of parallels in their lives: both were admirers of the late Stephen Sondheim, grateful for the psychological complexity he brought to a genre many considered silly, and both had experienced the gall of rejection.
Sheridans came in 2020 when they were pulled from the lead role Hedwig and the bad customs, planned for Sydney Festival 2021, due to pressure from activists. Trans advocates objected to Sheridan playing the role of Hansel undergoing sex reassignment surgery, saying the role should be played by a trans actor. The outpouring of vitriol Sheridan received via social media took a tremendous toll on her personal life and mental health.
"It was hard. I lost my job, I lost everything. Many, many people lost their jobs. And there was no resolution. An actor's job is to impersonate someone else…by using his own heart, using his mind and imagination as a vehicle to create something that other people can understand, that's the whole point of art, so when people come up and say, 'You can't do that because you don't know how to do it feels'…well, that defeats the purpose."
The four-time Logie winner who rose to fame playing the straight ben rafter Packed to the roof, later came out as non-binary. Larson, though obviously heterosexual, wrote convincingly about diverse communities with an uncanny ability to inhabit their worlds.
To prepare for the role, Sheridan spent the recent Christmas in New York with Jeffrey Seller, who was producing Hamilton and Rent. The couple became friends after Seller came to Australia Hamilton and was quarantined in a hotel. Sheridan, who felt the same way, sent him a care package containing chocolates, wine and a puzzle: "A sort of welcome to Australia – now that you're here we'll lock you up".
Seller was also a close friend of Larson's. In the living room of his huge home with Sellers seven Tony Awards (including one he won for Rent) flashing off the shelf, they sat on the sofa while Seller read aloud from some of Larson's original manuscripts.
Loading
"It was really emotional," says Sheridan. "At the same time I was like, 'This is so weird' … Jeffrey must feel like he made all that money and yet the person who wrote it died before he reaped any of the rewards. But I felt like Jonathan didn't care, that everything was fine… I get goose bumps just thinking about it now."
Perhaps the saddest irony is imagining what Larson's life would have been like had he been paid a decent salary. weeks before the premiere of Rent, he still worked in a diner. Apparently without health insurance, he presented to multiple emergency rooms with chest pains that were dismissed as stress or the flu. The night before his death, he was sent home from the hospital in a taxi.
An NIDA and VCA alumni, Sheridan once waited tables like Larson and cleaned houses to supplement her career. Is it time to pay artists properly?
"I love how the French treat artists… Careers are encouraged. The country will take care of you if you decide to become one. Here it is the other way around. We are basically more of a sports culture country and so many artists have to find their happiness abroad and go to countries that they appreciate more.
"Jonathan chose to live in the most difficult city to do what he wanted to do and there was a neurosis there and he thrived on it – it also inspired a lot of his work."
Loading
But isn't the struggling artist, for whom suffering is a crucible of creativity, just an annoying cliche and a form of abdication?
"Sometimes we lose track of how much work goes into a show and how much training people have to do to do what they're doing," says Sheridan. "While we look at sports stars and say, 'Give them another million! Sign them up!' And if you look at these amazing ballet dancers, they'll be lucky to ever see a million bucks."
What does Sheridan hope people will take away from the performance? "It's easy to look at Jonathan and feel sorry for him, but look at his legacy. Why did he keep trying? Because it was important to him. Time is valuable; Time is running out. He felt it."
Tick, tick… BOOM! takes place February 1-12 at the Comedy Theater; Sydney Lyric Theatre, 20-26 April; and QPAC Playhouse, Brisbane, 1.-5. May.
Your essential guide to the best things to see and do in and around the city. Sign up for our Culture Fix newsletter here.
https://www.smh.com.au/culture/theatre/time-is-running-out-the-poignant-tale-behind-hugh-sheridan-s-return-20230117-p5cd3n.html?ref=rss&utm_medium=rss&utm_source=rss_culture The poignant story behind Hugh Sheridan's return