The opening of the Surry Hills area is uncertain
Authorities are unable to predict when roads and surrounding buildings will reopen after a major fire destroyed a listed building in Surry Hills on Thursday, as the demolition process says it has begun.
Fire and Rescue NSW Superintendent Adam Dewberry said Monday morning initial preparatory work should start later in the day after plans to demolish the rest of the vacant building on Randle Street, near Central Station, were completed.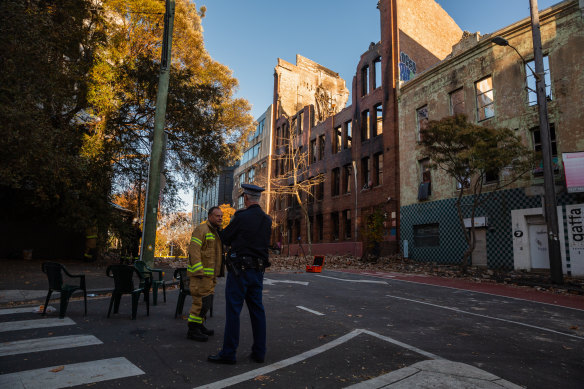 "An important plan has been developed. It's just a matter of doing the final checks to make sure it's an effective and, more importantly, a safe plan," he said.
"In the next few hours, the first preparatory work should begin, which will include the removal of the large rubble and the large pile of bricks."
Dewberry said the priority is getting people back into their homes as soon as possible. However, due to the complicated city system, he does not want to make the situation worse, which is why detailed planning is necessary.
"We also need to consider the essential utilities under the road, including a major gas line that supplies electricity to the city," he said.
"We have to make sure we don't make the situation worse by destroying it or causing this building, which has unsafe walls for those parts, to collapse on top of other unaffected buildings."
The building affected by the fire remains inaccessible to investigators or emergency services as the walls are at risk of collapsing. As a result, Dewberry was unable to provide a timeline for completing the cleanup.