The NSW Parliament now resembles the state it governs
Prime Minister Chris Minns dismissed the suggestion that the composition of his first cabinet was anything special. A frontbench that reflects the society it serves should not be seen as exceptional, the NSW Labor leader stressed.
But even one of Labor's longest-serving women admits it took three decades to reach that diversity benchmark. "Our Parliament should look like our people," Premier Penny Sharpe said this week. Sharpe was at Labor's national conference in 1994 when up-and-coming Penny Wong and Julia Gillard had their say, demanding better: not just hopeful goals could get more women elected to parliament, but enforceable quotas.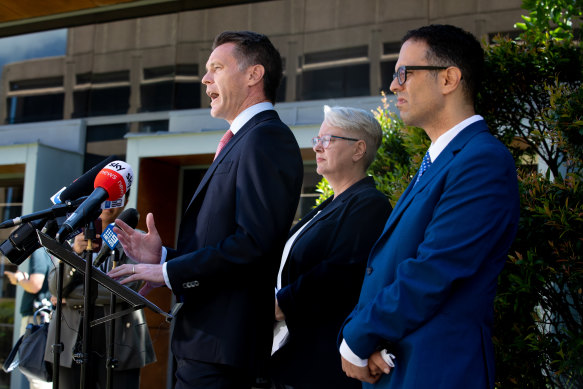 The result? Of the 45 NSW Labor MPs now sitting in the House of Commons, 22 are women. In the House of Lords, six of Labor's 15 MLCs are women and in the new Minns cabinet – which was sworn in on Wednesday – the Ministry is split evenly 50/50. What a stark message to send to Liberals.
The Liberal Party has always rejected Labour's system, treating quotas like a dirty word they can hardly pronounce, let alone consider as a viable option. Some conservative women – and occasionally men – have danced around the idea, but quotas have always been thrown in the too-harsh basket, with the loudest voices in the party thundering that they are not "the liberal way".
Merit is apparently the liberal way. However, it is difficult to argue that meritocracy has triumphed when mainland Australia has left the party. Rather, it shows that the Liberals' pre-selection process is broken, holding women back rather than supporting them.
The best the NSW Liberal Party could offer ahead of last month's state election was a half-hearted attempt at gender equality on its House of Lords ticket. This could only be achieved by former Minister Natasha Maclaren-Jones resigning her seat midway through her eight-year tenure to contest the ticket again.
Labor has made commendable progress on women's representation, but the party is no exception. In the historically large cross-bench of 12 MPs in the new Parliament are five women, including an all-female trio of Green MPs, Climate 200-backed Wollondilly MP Judy Hannan (who, ironically, was overlooked to allow the Liberal shortlist to make way for a man ) and Helen Dalton, who defected from the Shooters, Fishers and Farmers.
There is more to the 58th Parliament than just celebrating gender diversity. Minns highlighted that his team reflects modern Australia, noting that Bankstown MP Jihad Dib was the first NSW minister to be sworn in with the Koran, while Treasurer Daniel Mookhey, a Hindu who was the first minister in Australia to take his oath using the Koran Bhagavad Gita.
https://www.smh.com.au/national/nsw/in-macquarie-street-s-new-melting-pot-diversity-has-the-numbers-20230404-p5cy43.html?ref=rss&utm_medium=rss&utm_source=rss_national_nsw The NSW Parliament now resembles the state it governs